U.S. Masters Swimming Articles & Videos
Presented by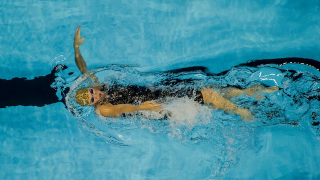 Coaching / Stroke Technique
Unlike any of the other three strokes, modern backstroke is unique in that there are no form variations used by contemporary swimmers. The alternating arm action and continuous kick are so superior that they are the nearly exclusive style used in the sport.
Coaching / Drills / Stroke Technique
Breaststroke is a devilish stroke: challenging to learn, difficult to perfect, and full of nuance. To a nonswimmer, breaststroke may look easy. Can't anyone do it? Well, maybe great grandma's...
Stroke Technique
Capturing the beauty of the sport of swimming is a challenge for all photographers. Seasoned professionals who are used to shooting other sports are often as challenged as novices by the complexities of shooting swimmers and water in motion.
Drills / Open Water / Stroke Technique / Training / Triathlon
It's undeniable: many triathletes consider themselves cyclists or runners and regard the first part of the race as something to be tolerated, or worse, feared. Swimming in a frenzied open-water pack...
Stroke Technique
By Cokie Lepinski - Here's a drill that has multiple benefits for backstrokers. It will help with timing of your arm strokes, getting you to rotate from your core, and keeping your kick steady. And...
Coaching / Drills / Stroke Technique
We've all heard about the three Rs for academics: reading, (w)riting, and (a)rithmetic, and we have long been told they are the fundamentals of a good education. Similarly, we have three Rs in...
Coaching / Drills / Stroke Technique
Butterfly is often seen as one of the more difficult strokes to master. Yet, done properly, it is rhythmical and beautiful and the good flyers make it look effortless. They've learned how to...

The USMS website contains articles about sports medicine, health, and nutrition. This information is not intended to be a substitute for professional or medical advice on personal health matters. For personal medical advice, or if you are concerned about a medical condition or injury, see your healthcare provider for evaluation and care. The USMS website also contains articles about swim training and technique, including drills and workouts. All swimmers should be evaluated by a healthcare professional prior to beginning swim training. In addition, consult with a trained coach when introducing new technique or drills to your swim training program.