U.S. Masters Swimming Articles & Videos
Presented by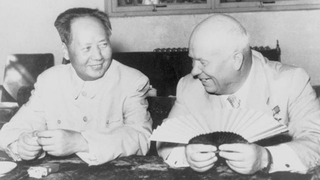 Human Interest
It's not often that swimming and world politics intersect, but there have been a few fascinating moments in history when an ability to swim (or perhaps an inability, in this case) influenced a...
Human Interest
To many USMS members—avid swimmers who range from casual fitness swimmers and weekend warrior triathletes to Olympic-caliber pool competitors and adventurous open water swimmers—it can be hard to imagine being an adult who's unable to swim or is afraid in the water.
Human Interest / Open Water
After quietly chipping away at their cell walls with spoons for more than a year, sometime after midnight on June 11, 1962, brothers John and Clarence Anglin of Donalsonville, Ga., and fellow inmate...
Human Interest
Winston Churchill famously described depression as a big black dog that follows the sufferer around. Truman Capote contrasted the onset of the blues with an attack of the reds, and Kat Kinsman...
Human Interest
Spending time in the pool together makes working out a more communal experience for many swimmers. Teammates connect by sharing the same joys and frustrations that many biological families...
Human Interest
Olympian and USMS on-deck correspondent Misty Hyman, 34, of Phoenix, Ariz., is best known for winning the women's 200-meter butterfly in stunning fashion at the 2000 Sydney Olympics. In a glorious...
Human Interest / Technique and Training
Oh, it's the most stressful time of the year, isn't it? With to-do lists as long as our swimmers' arms, we dash through the snow in our 300-horse-powered SUVs, scurrying to and fro in that...

The USMS website contains articles about sports medicine, health, and nutrition. This information is not intended to be a substitute for professional or medical advice on personal health matters. For personal medical advice, or if you are concerned about a medical condition or injury, see your healthcare provider for evaluation and care. The USMS website also contains articles about swim training and technique, including drills and workouts. All swimmers should be evaluated by a healthcare professional prior to beginning swim training. In addition, consult with a trained coach when introducing new technique or drills to your swim training program.