U.S. Masters Swimming Articles & Videos
Presented by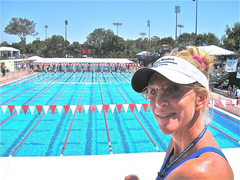 Fitness / Human Interest
Cindy Januszewski is 44 and a proud member of Florida Maverick Masters. During the warmer months, when she is not swimming or taking care of her family, she teaches water fitness at Whispering Pines,...
Fitness
What is a FLOG? You've probably been hearing the word FLOG lately. It's a funny word, FLOG. Actually, to me it sounds a bit dangerous. But have no fear, FLOG is an acronym for Fitness Log. But...
Fitness
We have all heard it a hundred times …Yoga is good for you. Whether you are young or old, a world-class athlete or a couch potato, the physical and mental benefits of yoga can help anyone with just...
Events / Fitness
Twenty-four-year-old Ken Sutha was fighting for his life.  His father donated his own kidney to Ken and today, two years after the transplant, he's celebrating his new lease on life by competing...
About USMS / Fitness
Is it worth it?  What's in it for me?  What do I get if I join?  
Fitness / Human Interest
Are you battling a health condition? Do want to meet your future mate? Do you want to inspire your kids? Is your job stressful and you just need some balance? Are you new to an area and looking to...
About USMS / Fitness
Do you have what it takes to go the distance? Dedicated volunteers and more than 500 members are motivated every month by US Masters Swimming fitness programs...

The USMS website contains articles about sports medicine, health, and nutrition. This information is not intended to be a substitute for professional or medical advice on personal health matters. For personal medical advice, or if you are concerned about a medical condition or injury, see your healthcare provider for evaluation and care. The USMS website also contains articles about swim training and technique, including drills and workouts. All swimmers should be evaluated by a healthcare professional prior to beginning swim training. In addition, consult with a trained coach when introducing new technique or drills to your swim training program.