U.S. Masters Swimming Articles & Videos
Presented by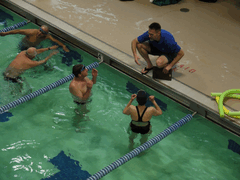 Coaching / Training
We all know someone (maybe you are one yourself) who is a great multitasker. You know—the type of person who can concentrate on multiple things at the same time and seem to do all of them pretty...
Coaching / Training / USMS Promotional
In March 2013 I attended the USMS/ASCA Level 3 coaching certification course at the Rose Bowl Aquatic Center. I had attended Levels 1 and 2 in 2012, and I found that Level 3 unified all of the...
Events
http://www.usms.org/comp/lcnats13/ Misty Hyman and Rob Butcher bring us Day 1 highlights from the 2013 Marriott USMS Summer Nationals at Mission Viejo. Several great stories from this historic venue with the 1500m Freestyle event to kick things off.
Events
Misty Hyman previews the 2013 Marriott USMS Summer Nationals at Mission Viejo. This historic pool will play host to over 1,400 masters swimmers.
Open Water
On Wednesday, May 2, 2012, at the stroke of midnight, Matthew Moseley jumped into the choppy, dark waters of Lake Pontchartrain in New Orleans to begin his leg of a two-man relay across the entire...

The USMS website contains articles about sports medicine, health, and nutrition. This information is not intended to be a substitute for professional or medical advice on personal health matters. For personal medical advice, or if you are concerned about a medical condition or injury, see your healthcare provider for evaluation and care. The USMS website also contains articles about swim training and technique, including drills and workouts. All swimmers should be evaluated by a healthcare professional prior to beginning swim training. In addition, consult with a trained coach when introducing new technique or drills to your swim training program.