U.S. Masters Swimming Articles & Videos
Presented by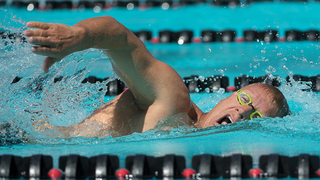 Sports Medicine
Shoulder discomfort is a common complaint amongst Masters swimmers. For some, the pain keeps them awake at night and escalates to chronic. Articles and blog posts promise a pain-free shoulder with a...
Stroke Technique
Excellence is not accidental. While we might be able to perform any particular movement properly during a focused drill, it takes tons of practice to ensure that those skills become so ingrained...
Advertorial
There's training gear and then there's racing gear and competitive swimmers know the value of a complete, proper race kit. From the common sense (fog-free goggles) to the sophisticated (high-tech suits), having the right equipment for the race can help you beat your competitors to that final wall.
Press Releases
U.S. Masters Swimming has concluded its annual meeting during the United States Aquatic Sports Convention. In addition to committee meetings and rules and legislation reviews, USMS held at-large director elections and honored many of its deserving volunteers with service awards.
USMS Clubs
Linda Bostic, 52, never intended to found one of the fastest-growing Masters programs in the country or to become a top coach within U.S. Masters Swimming. All she was looking to do back in 2009 was to start swimming again. 
Biography
In 2016, at the age of 90, Thomas O. Maine was selected as a member of the 2016 class of inductees into the International Masters Swimming Hall of Fame. The induction ceremony will take place on September 23, 2016, in Atlanta, Ga., in conjunction with the 2016 United States Aquatic Sports XXXVII Convention. 
Starts and Turns / Stroke Technique
Good starts are really hard to define. To a casual observer, a good start is one that looks pretty. In reality, looking pretty is not nearly as important as the physics of the start and how that sets you up for a great race; this is swimming, not diving, so looking good is great, but being fast is better!

The USMS website contains articles about sports medicine, health, and nutrition. This information is not intended to be a substitute for professional or medical advice on personal health matters. For personal medical advice, or if you are concerned about a medical condition or injury, see your healthcare provider for evaluation and care. The USMS website also contains articles about swim training and technique, including drills and workouts. All swimmers should be evaluated by a healthcare professional prior to beginning swim training. In addition, consult with a trained coach when introducing new technique or drills to your swim training program.