U.S. Masters Swimming Articles & Videos
Presented by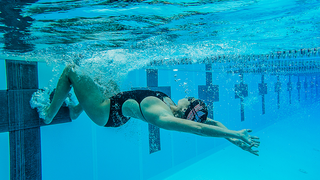 Drills / Starts and Turns / Technique and Training
If you spent a lot of time in a pool as a kid, you might have done flips or somersaults while playing around. You might have been taught to twist yourself or use your arms to help you do a flip turn...
Events / Human Interest
The 75-year-old AnnLiv Bacon and another swimmer at Summer Nationals who has undergone joint replacement surgery, the 80-year-old Owen Ackerman of Illinois Masters, hope they can teach two lessons to the seven million-plus Americans who have had a joint replaced.
Events
The 1,000-plus swimmers at Summer Nationals broke 39 world records and 55 USMS records in a meet in which no relay records were broken. Eight swimmers had multiple world record swims and 10 had multiple USMS record swims.
Coaches Only / Technique and Training
Swimmers come in many different flavors. There are sprinters, distance people, stroke specialists, triathletes, and even a few folks who seem to be able to do it all. Our coaching challenge is to provide the best possible training to help our athletes excel in their chosen specialty.
Events
The 2017 U.S. Masters Swimming Summer National Championship lasts Wednesday through Sunday at the Jean K. Freeman Aquatic Center at the University of Minnesota. We're expecting plenty of fast swimming from the more than 1,000 swimmers from cross the country who'll be in Minneapolis.
Events / Open Water
Hardy Lussier's dedication helped him come in second place on the men's side with a time of 1:05:51 on Sunday in the U.S. Masters Swimming Long Distance Open Water National Championship. The 5-kilometer race was in Elk Lake in Oregon about 200 miles southeast of Portland.
About USMS
Swimming's universally recognized health benefits are the envy of other sports: superior core strength, reduced stress, increased cardiovascular and respiratory health, improved flexibility, and...

The USMS website contains articles about sports medicine, health, and nutrition. This information is not intended to be a substitute for professional or medical advice on personal health matters. For personal medical advice, or if you are concerned about a medical condition or injury, see your healthcare provider for evaluation and care. The USMS website also contains articles about swim training and technique, including drills and workouts. All swimmers should be evaluated by a healthcare professional prior to beginning swim training. In addition, consult with a trained coach when introducing new technique or drills to your swim training program.