U.S. Masters Swimming Articles & Videos
Presented by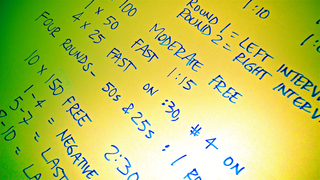 Technique and Training
Here is one way to mix in some fun by getting swimmers involved in running the workout.
Human Interest
Houston Cougar Masters swimmer Helena Finley was just one of many U.S. Masters Swimming members impacted by Harvey, which hit Texas on Aug. 25 as a Category 4 hurricane.
Technique and Training
There are a ton of technique articles on the USMS website about how to swim more efficiently. But getting the most out of each swim is really a matter of being thoughtful about what you're doing. Here's how to give every swim workout a chance to be a great swim workout.
Events
The female USMS swimmers broke six world records, including one apiece by Rose Bowl Masters' Maurine Kornfeld (95-99 800 freestyle) and Phoenix Swim Club's Noriko Inada (35-39 100 backstroke).
Technique and Training
If you spent a lot of time in a pool as a kid, you might have done flips or somersaults while playing around. You might have been taught to twist yourself or use your arms to help you do a flip turn...
Events / Human Interest
The 75-year-old AnnLiv Bacon and another swimmer at Summer Nationals who has undergone joint replacement surgery, the 80-year-old Owen Ackerman of Illinois Masters, hope they can teach two lessons to the seven million-plus Americans who have had a joint replaced.

The USMS website contains articles about sports medicine, health, and nutrition. This information is not intended to be a substitute for professional or medical advice on personal health matters. For personal medical advice, or if you are concerned about a medical condition or injury, see your healthcare provider for evaluation and care. The USMS website also contains articles about swim training and technique, including drills and workouts. All swimmers should be evaluated by a healthcare professional prior to beginning swim training. In addition, consult with a trained coach when introducing new technique or drills to your swim training program.