U.S. Masters Swimming Articles & Videos
Presented by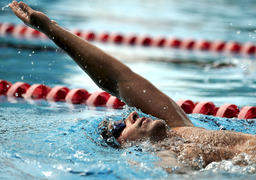 Coaching / Drills / Stroke Technique
Humans are land-based, vertical mammals. So asking a swimmer to get wet, go horizontal, upside down, and then swim backwards? Well heck, no wonder backstroke sets can set some swimmers groaning.
Press Releases
U.S. Masters Swimming, owner of the most comprehensive website for adult swimming, introduces a redesign of usms.org. The website was originally introduced in 1996 and has undergone several revisions since, the most recent in 2005. In the past year, more than 2.4 million users visited the website.
Biography
Meet GTD Swimmer Katherine Clarke by Suzi Green Katherine Clarke, 68, swims with the Gulf Coast Pirate Swimmers in Pensacola, Fla. She's lived there for 20 years, but she and her retired airline...
Fitness / Health and Nutrition / Sports Medicine
Swimming might be the single best thing you can do to avoid the diseases that plague our sedentary society and to vastly improve the function of both your body and mind.
Coaching / Stroke Technique
Over the last few decades a lot of changes have been made to the way we approach swimming and coaching the freestyle stroke. And we've learned that techniques we would never have thought to be efficient have proven to be exceptionally so in some swimmers.
The USMS website contains articles about sports medicine, health, and nutrition. This information is not intended to be a substitute for professional or medical advice on personal health matters. For personal medical advice, or if you are concerned about a medical condition or injury, see your healthcare provider for evaluation and care. The USMS website also contains articles about swim training and technique, including drills and workouts. All swimmers should be evaluated by a healthcare professional prior to beginning swim training. In addition, consult with a trained coach when introducing new technique or drills to your swim training program.