U.S. Masters Swimming Articles & Videos
Presented by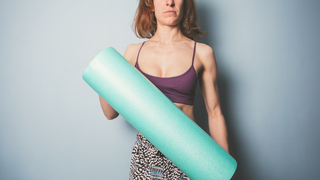 Sports Medicine
You wrap up a hard breaststroke set or 5-mile run and are later assaulted by pain and/or a burning sensation on the outside of the knee. The first impulse is to blame the knee joint. Few people...
Whats New?
Meg Smath of Swim Kentucky Masters has been volunteering with USMS since 1991 and has served in many significant areas at the local, regional, and national levels. You can read more about Meg and her...
Advertorial
Training paddles are lightweight tools built for in-water use. When strapped to the palms of each hand, they help to improve stroke technique and arm strength by evenly distributing water pressure....
Open Water
As I approached the 6-mile mark in my first 8-mile Boston Light Swim in 2006, I just couldn't take it any more. My bathing suit straps had rubbed raw, bleeding wounds into my shoulders that ached...
Coaching
During big events such as the upcoming 2015 Nationwide USMS Spring National Championship, many swimmers will be showing off how hard they've worked all winter. And although it's the swimmers...
Drills / Open Water / Stroke Technique / Training
Everybody knows that rest and recovery are essential components of an effective training program. But have you ever thought about how to rest and recover during a workout, or even a race? You should—it will definitely help your training and race performance.

The USMS website contains articles about sports medicine, health, and nutrition. This information is not intended to be a substitute for professional or medical advice on personal health matters. For personal medical advice, or if you are concerned about a medical condition or injury, see your healthcare provider for evaluation and care. The USMS website also contains articles about swim training and technique, including drills and workouts. All swimmers should be evaluated by a healthcare professional prior to beginning swim training. In addition, consult with a trained coach when introducing new technique or drills to your swim training program.