U.S. Masters Swimming Articles & Videos
Presented by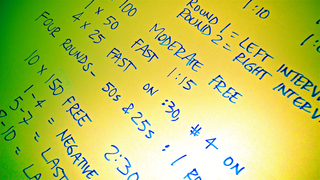 Coaching
We each have our favorite workouts to do, and we each have sets we'd prefer to avoid. As a distance swimmer, I love to do timed 1650s all day long, but I dread the very idea of sprinting a single...
Coaching
To combat these difficulties our coaching staff decided to type and print each workout, place it in a plastic Ziploc bag, and put a copy at the end of each lane for every practice. We still give...
Sports Medicine
While diligently training for another state meet or nationals, it's easy to forget that rest and self-repair go a long way to improving performance. A great way to rejuvenate an exhausted body is to invest in a therapeutic muscle massage.
Sports Medicine / Training
If you train and compete long enough in any sport, you'll likely experience minor, chronic injury at some point. Injuries in a noncontact sport such as swimming are often the result of inadequacy in one of three areas: mechanics, posture, or strength.
Advertorial
When it comes to race day, few things are as important as your gear. And for a competitive swimmer at any level, a well fitting technical suit is certainly at the top of the list. From maximized core...

The USMS website contains articles about sports medicine, health, and nutrition. This information is not intended to be a substitute for professional or medical advice on personal health matters. For personal medical advice, or if you are concerned about a medical condition or injury, see your healthcare provider for evaluation and care. The USMS website also contains articles about swim training and technique, including drills and workouts. All swimmers should be evaluated by a healthcare professional prior to beginning swim training. In addition, consult with a trained coach when introducing new technique or drills to your swim training program.