U.S. Masters Swimming Articles & Videos
Presented by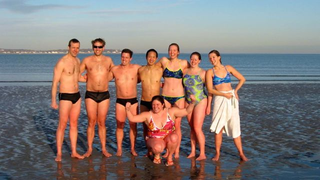 Open Water
Now that you've got the right gear, let's go swimming. But wait! Where are you headed? There are lots of places to swim, but swimming alone is dangerous and not advisable, so you should gather...
Open Water
In ancient times, mariners dreaded venturing too far from the shoreline for fear of the lurking monsters at the edge of the then-known universe. Although the beasties and creatures they imagined have...
Open Water
Although ocean swimmers may have a greater range of water conditions to deal with, fresh water swimmers aren't off the hook entirely. In especially large lakes, like Lake Michigan where the Big...
Open Water
Although open water swimming can be one of the most calming, cathartic, and tranquil sports you can take part in, not everyone feels comfortable in the open water. Even experienced pool swimmers...
Open Water
It stands to reason, if you're new to open water swimming and want to train for an event, starting smaller will likely result in a more successful outcome. There are lots of events out there, with...
Open Water
Just like in the pool, training for an open water race or event works best when you set goals and train consistently. Although swimming a lot in open water would seem logical, most open water...
Open Water
The standard rules of marathon swimming state that any swim longer than 10 kilometers (6.2 miles) can be considered a marathon swim. The rules also state that marathon swims are accomplished...

The USMS website contains articles about sports medicine, health, and nutrition. This information is not intended to be a substitute for professional or medical advice on personal health matters. For personal medical advice, or if you are concerned about a medical condition or injury, see your healthcare provider for evaluation and care. The USMS website also contains articles about swim training and technique, including drills and workouts. All swimmers should be evaluated by a healthcare professional prior to beginning swim training. In addition, consult with a trained coach when introducing new technique or drills to your swim training program.