U.S. Masters Swimming Articles & Videos
Presented by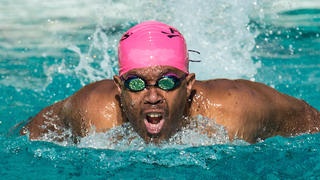 Health and Nutrition
We all know the feeling of getting out of the pool, physically sore yet pleasantly rejuvenated. But another perception many swimmers have immediately after practice is a stinging and burning...
Adult Learn-to-Swim / USMS Promotional
USMS Executive Director Rob Butcher on the Swimming Saves Lives Foundation's "April is Adult Learn-to-Swim Month" campaign.
Coaching / Stroke Technique
As coaches, we know the importance of minimizing resistance in swimming. But translating to your swimmers the many details that go into that simple statement is not always so simple! For example,...
Coaching / Open Water
Coaches: Open water season is approaching and with it the need to help your swimmers learn the basics of sighting. One of the easiest ways to improve your swimmers' open water performance is by...

The USMS website contains articles about sports medicine, health, and nutrition. This information is not intended to be a substitute for professional or medical advice on personal health matters. For personal medical advice, or if you are concerned about a medical condition or injury, see your healthcare provider for evaluation and care. The USMS website also contains articles about swim training and technique, including drills and workouts. All swimmers should be evaluated by a healthcare professional prior to beginning swim training. In addition, consult with a trained coach when introducing new technique or drills to your swim training program.