U.S. Masters Swimming Articles & Videos
Presented by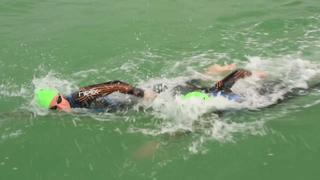 Open Water
Sara McLarty shows us how dafting another athlete—that is, using the energy generated by the movement of the water off the other swimmer's body to assist your swim—is a legal way to gain an advantage over your competitors in an open water swim or triathlon race.
Whats New?
In the March issue of STREAMLINES, we incorrectely stated that elections will be held for officer positions (president, vice-presidents, etc.) This year, elections are for all at-large directors...
Product Reviews
March April 2014 issue of SWIMMER Magazine we reviewed Sleeveless wetsuits which offer more freedom and range of motion than sleeved ones do. Our testers who come from competitive swimming...

The USMS website contains articles about sports medicine, health, and nutrition. This information is not intended to be a substitute for professional or medical advice on personal health matters. For personal medical advice, or if you are concerned about a medical condition or injury, see your healthcare provider for evaluation and care. The USMS website also contains articles about swim training and technique, including drills and workouts. All swimmers should be evaluated by a healthcare professional prior to beginning swim training. In addition, consult with a trained coach when introducing new technique or drills to your swim training program.