U.S. Masters Swimming Articles & Videos
Presented by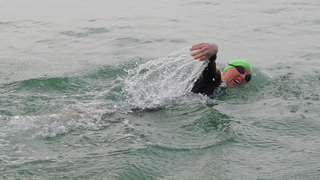 Stroke Technique / Triathlon
Swimming faster must necessarily begin with swimming smarter. As with most endeavors—physical or otherwise—there is a limit to progress that can be made without continual improvement in...
Training
For ultra-competitive swimmers, the night before a big race can be filled with hours tossing and turning, worrying about race execution, or having nightmares about stepping on the blocks missing...
Drylands / Training
Swimmers are seldom models of perfect posture. Countless hours spent swimming back and forth encourages slumped shoulders. In addition, swimmers are often believed to be clumsier than land-based athletes. But even for these seemingly systemic problems, there is a simple solution: Strength training.
Training
Look at any swimmer's equipment bag and chances are you will find a pair of fins. They are great for all kinds of uses from helping to isolate a part of your stroke to strengthening the core and...

The USMS website contains articles about sports medicine, health, and nutrition. This information is not intended to be a substitute for professional or medical advice on personal health matters. For personal medical advice, or if you are concerned about a medical condition or injury, see your healthcare provider for evaluation and care. The USMS website also contains articles about swim training and technique, including drills and workouts. All swimmers should be evaluated by a healthcare professional prior to beginning swim training. In addition, consult with a trained coach when introducing new technique or drills to your swim training program.