U.S. Masters Swimming Articles & Videos
Presented by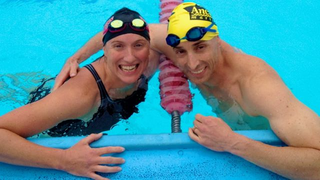 Human Interest
Spending time in the pool together makes working out a more communal experience for many swimmers. Teammates connect by sharing the same joys and frustrations that many biological families...
Whats New?
The preliminary Top 10 listings for the 2013 short-course meters season, which ran 1/1/2013 - 12/31/2013, are now available. Please check for inaccuracies and email Mary Beth Windrath, the National Swims Administrator, with potential corrections by Feb 28.
Whats New?
USMS Officers Nominations due April 30 with Elections Slated for September 2014 United States Masters Swimming will hold elections during the 2014 Annual Meeting of the House of Delegates, Sept....
Drills / Stroke Technique
Backstroke is a mystery to so many swimmers, even ones who swim it well. But you can take away all the pain, confusion, and discomfort with one simple sentence. Backstroke, just like the other three strokes, requires breathing in the rhythm of the head in and out of the water.

The USMS website contains articles about sports medicine, health, and nutrition. This information is not intended to be a substitute for professional or medical advice on personal health matters. For personal medical advice, or if you are concerned about a medical condition or injury, see your healthcare provider for evaluation and care. The USMS website also contains articles about swim training and technique, including drills and workouts. All swimmers should be evaluated by a healthcare professional prior to beginning swim training. In addition, consult with a trained coach when introducing new technique or drills to your swim training program.