U.S. Masters Swimming Articles & Videos
Presented by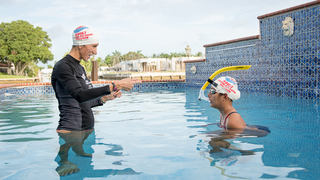 Adult Learn-to-Swim
In this second installment of Mari Soliman's Adult Learn-to-Swim Story, USMS catches up with Mari to talk about how her swimming lessons with her USMS-certified adult learn-to-swim instructor, Megan Lassen, are progressing.
Adult Learn-to-Swim
A few weeks ago while coaching a Saturday morning practice, I had the chance to meet Mari Soliman on deck. Right away, I thought, "She looks like she could be a swimmer." She looked confident yet a little nervous. When she approached, she was outgoing, happy, and excited to get started.
Adult Learn-to-Swim
Exploring and learning are two verbs that describe what I try to do daily. It's in my nature to be curious and to discover what is unknown to me. This has led me to swimming lessons—because I...
Whats New?
The preliminary Top 10 listing is for proofreading purposes only. Report any errors to the National Swims Administrator by Sunday, February 28th. See the Booklet or the USMS Top 10 Search Page to...
Coaching / Drills / Training
A well-executed butterfly stroke is one of the most beautiful things in all of sports, and swimming it can be an exhilarating experience that makes your spirit soar. Yet butterfly is also a uniquely...
Drylands / Sports Medicine / Training
Core training is a common topic in locker rooms, but few swimmers fully understand the concept. The ripped "six-pack" that makes one the envy of teammates won't come from doing hundreds of...
Drills / Stroke Technique
Unlike many sports, swimming is almost solely technique-based. Simply trying harder won't make you faster. At the risk of overgeneralizing, if you want to run faster you simply pick up the turnover...

The USMS website contains articles about sports medicine, health, and nutrition. This information is not intended to be a substitute for professional or medical advice on personal health matters. For personal medical advice, or if you are concerned about a medical condition or injury, see your healthcare provider for evaluation and care. The USMS website also contains articles about swim training and technique, including drills and workouts. All swimmers should be evaluated by a healthcare professional prior to beginning swim training. In addition, consult with a trained coach when introducing new technique or drills to your swim training program.