U.S. Masters Swimming Articles & Videos
Presented by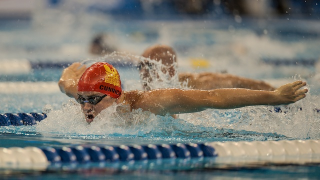 Drills / Stroke Technique
Butterfly is all about rhythm and good technique. Many swimmers struggle with developing and timing a strong second kick, which is important for a faster and more efficient butterfly.
Press Releases
Sarasota, Fla., & San Jose, Calif. (June 20, 2013)--SwimOutlet.com and U.S. Masters Swimming unveiled their newest partnership video and contest on Thursday, featuring four-time gold medalist...
Coaching
Most age group teams are divided up by age and ability, with different workout times, or at least a coach on deck for each group. How many Masters coaches do you have on deck to handle your newbies...
Coaching
Q: What community partnerships should my program be pursuing? A: There are three important categories of partnerships your program should actively pursue: community service, program growth, and financial benefit.
Human Interest
The ping of the alarm rather than the pitter-patter of little feet or a babe's cry jolts me out of a deep sleep. Drowsy, I turn off the alarm and glance at the clock: 5:25 a.m. I drag myself from...

The USMS website contains articles about sports medicine, health, and nutrition. This information is not intended to be a substitute for professional or medical advice on personal health matters. For personal medical advice, or if you are concerned about a medical condition or injury, see your healthcare provider for evaluation and care. The USMS website also contains articles about swim training and technique, including drills and workouts. All swimmers should be evaluated by a healthcare professional prior to beginning swim training. In addition, consult with a trained coach when introducing new technique or drills to your swim training program.