U.S. Masters Swimming Articles & Videos
Presented by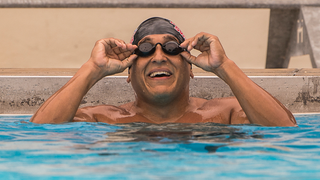 Training
Every January, swim teams and gyms see crowds of enthusiastic resolution setters flocking in to jumpstart their fitness programs for the new year. But we all know what happens next, right? By...
Fitness / Sports Medicine
You're on the ninth of 10 x 100s and push off the wall, psyched to bring the set home. After a burst of three dolphin kicks off the wall, it feels like a knife has suddenly pierced your calf muscles....
Drylands / Training
The postural muscles of the mid- and upper-back provide a foundation from which to produce power while swimming. Strengthening these muscles with the following exercises might improve your speed in...
Human Interest
Your teammates are your family. Our tight-knit community bonds swimmers together across miles and years. Whether you've hung up the suit or continue the journey, your teammates and the experiences you've shared will last a lifetime.
Training
It seems that as days get shorter and colder, our bodies want to slow down, store up fat, and take a long winter's nap. Holidays offer temptations to consume copious calories—and year-end visits...
Training
I was recently talking to a Masters swimmer who had some questions about his dryland and strength training program. He wanted to know how to get stroke-specific with his program and hopefully improve more in the water.  

The USMS website contains articles about sports medicine, health, and nutrition. This information is not intended to be a substitute for professional or medical advice on personal health matters. For personal medical advice, or if you are concerned about a medical condition or injury, see your healthcare provider for evaluation and care. The USMS website also contains articles about swim training and technique, including drills and workouts. All swimmers should be evaluated by a healthcare professional prior to beginning swim training. In addition, consult with a trained coach when introducing new technique or drills to your swim training program.