U.S. Masters Swimming Articles & Videos
Presented by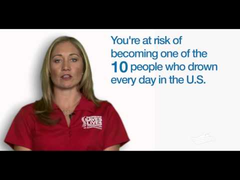 Adult Learn-to-Swim / USMS Promotional
Olympic gold medalist Misty Hyman is the 2015 ambassador for the Swimming Saves Lives Foundation's "April is Adult Learn-to-Swim Month" campaign. Now in its second year, SSLF's ALTS campaign...
Coaching / Drills
Most swimmers who train in the pool use both the lane lines and markings on the bottom of the pool to tell them whether or not they're swimming in a straight line. With the visual feedback from...
Coaching / Drylands / Stroke Technique
The catch position and phase of each stroke is paramount to a swimmer's success. Swimmers who improve their catch will automatically increase their power and endurance without any metabolic training. Once a great catch has been established, it can cover up a lot of other technical flaws in the stroke. 
Drylands
Some athletes work for a long time and exert a lot of energy but realize only small increases in strength. Often, though, they can see significant increases in strength by implementing a few simple...
Health and Nutrition
We all know the feeling of getting out of the pool, physically sore yet pleasantly rejuvenated. But another perception many swimmers have immediately after practice is a stinging and burning...
Adult Learn-to-Swim / USMS Promotional
USMS Executive Director Rob Butcher on the Swimming Saves Lives Foundation's "April is Adult Learn-to-Swim Month" campaign.

The USMS website contains articles about sports medicine, health, and nutrition. This information is not intended to be a substitute for professional or medical advice on personal health matters. For personal medical advice, or if you are concerned about a medical condition or injury, see your healthcare provider for evaluation and care. The USMS website also contains articles about swim training and technique, including drills and workouts. All swimmers should be evaluated by a healthcare professional prior to beginning swim training. In addition, consult with a trained coach when introducing new technique or drills to your swim training program.