U.S. Masters Swimming Articles & Videos
Presented by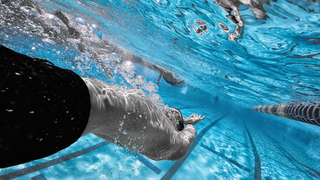 Drylands / Training
In order to realize your full athletic potential and remain as injury-free as possible, it's vital to keep your hips in working order. Many people will talk about the core and how important...
Training
In working with many Masters swimmers over the years, I've seen an array of backgrounds and goals. Some swimmers decide to get back into the sport after many years out of the water and others are...
Drylands
Having a strong and stable core provides a foundation for faster and more powerful swimming. Although many swimmers do "core" work, most of the time they're doing so in a prone or push-up...
Drylands / Training
There are many ingredients for natural, strong swimming. One of the most important is good core strength and stability. Without a strong and engaged core, coordinating and supporting arm and leg...
Training
Pull-ups are in the top three exercises that I recommend for swimmers. If you get better at pull-ups, you'll see a direct impact on your speed and endurance in the water because the pulling pattern in most strokes is closely related to the pull-up movement.
Coaching / Drylands / Stroke Technique
The catch position and phase of each stroke is paramount to a swimmer's success. Swimmers who improve their catch will automatically increase their power and endurance without any metabolic training. Once a great catch has been established, it can cover up a lot of other technical flaws in the stroke. 
Drylands
Some athletes work for a long time and exert a lot of energy but realize only small increases in strength. Often, though, they can see significant increases in strength by implementing a few simple...

The USMS website contains articles about sports medicine, health, and nutrition. This information is not intended to be a substitute for professional or medical advice on personal health matters. For personal medical advice, or if you are concerned about a medical condition or injury, see your healthcare provider for evaluation and care. The USMS website also contains articles about swim training and technique, including drills and workouts. All swimmers should be evaluated by a healthcare professional prior to beginning swim training. In addition, consult with a trained coach when introducing new technique or drills to your swim training program.