U.S. Masters Swimming Articles & Videos
Presented by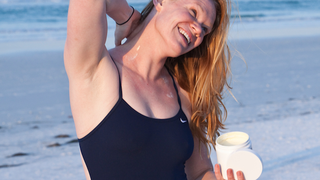 Open Water
As I approached the 6-mile mark in my first 8-mile Boston Light Swim in 2006, I just couldn't take it any more. My bathing suit straps had rubbed raw, bleeding wounds into my shoulders that ached...
Adult Learn-to-Swim / Biography / Human Interest
Tselane Gardner, 48, of Rose Bowl Masters, didn't grow up a swimmer. Rather, she had a few, limited interactions with a neighbor's pool in the summers. "I didn't really know how to swim, so I'd just play around in the shallow end and have fun," she recalls. 
Human Interest
In 1521, Spanish explorer Juan Ponce de Leon was killed on a beach near what would eventually become Fort Myers, Fla. History tells us the famous conquistador met his maker at the business end of a...
Biography / History / Human Interest
When I was asked to write a brief remembrance piece of Paul Hutinger and June Krauser—two pillars of the early days of U.S. Masters Swimming who dedicated so much time and energy to building the...
Open Water
See that out there? That wide-open expanse of blue loveliness? That's open water. No walls. No lane lines. And best of all, no black line here. If you're new to open water swimming, there are...
Open Water
Now that you've got the right gear, let's go swimming. But wait! Where are you headed? There are lots of places to swim, but swimming alone is dangerous and not advisable, so you should gather...
Open Water
In ancient times, mariners dreaded venturing too far from the shoreline for fear of the lurking monsters at the edge of the then-known universe. Although the beasties and creatures they imagined have...

The USMS website contains articles about sports medicine, health, and nutrition. This information is not intended to be a substitute for professional or medical advice on personal health matters. For personal medical advice, or if you are concerned about a medical condition or injury, see your healthcare provider for evaluation and care. The USMS website also contains articles about swim training and technique, including drills and workouts. All swimmers should be evaluated by a healthcare professional prior to beginning swim training. In addition, consult with a trained coach when introducing new technique or drills to your swim training program.