U.S. Masters Swimming Articles & Videos
Presented by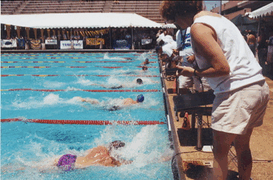 Technique and Training
A champion swimmer moving through the water is a thing of beauty. We notice the grace, power, and fluidity of motion and marvel at the talent on display. But in addition to being thrilled by the...
Coaches Only
Athletes join Masters swim teams for a variety of reasons. As coaches, we're most effective when we get to know our swimmers personally and truly understand their individual needs and goals....
Coaches Only
We each have our favorite workouts to do, and we each have sets we'd prefer to avoid. As a distance swimmer, I love to do timed 1650s all day long, but I dread the very idea of sprinting a single...
Coaches Only / Technique and Training
The swimmers who set records in distance swimming typically split their races very evenly. In Sun Yang's 1500-meter race at the 2012 Olympics, his 50 splits varied by only a few tenths of a second throughout the race, and his front and back half times were nearly identical.
Coaches Only
All Masters coaches need great communication skills to effectively give swimmers quality workouts and useful stroke feedback. But the best coaches leverage their communication skills to create even more opportunities to help people improve their swimming—by building and sustaining club membership.
Technique and Training
Swimming is a big part of our lives, but it's not the only thing we think about. Thoughts about family, work, and what's for dinner can float through our heads as we float through the water....
Technique and Training
Every January, swim teams and gyms see crowds of enthusiastic resolution setters flocking in to jumpstart their fitness programs for the new year. But we all know what happens next, right? By...

The USMS website contains articles about sports medicine, health, and nutrition. This information is not intended to be a substitute for professional or medical advice on personal health matters. For personal medical advice, or if you are concerned about a medical condition or injury, see your healthcare provider for evaluation and care. The USMS website also contains articles about swim training and technique, including drills and workouts. All swimmers should be evaluated by a healthcare professional prior to beginning swim training. In addition, consult with a trained coach when introducing new technique or drills to your swim training program.