Display units available to clubs
USMS has three display units that are loaned, free of charge, to promote our organization at health fairs, triathlons, running events, open water swims, lobbies of YMCAs, recreation centers, and at other special events.

Two of the displays are large double-sided pull-up panels covered with photos of Masters swimmers. One display is a large 10 foot x 10 foot three-panel tradeshow unit featuring graphics from the USMS brochure. Both come with table covering, USMS brochures and USMS Planners. In addition, copies of past issues of USMS SWIMMER can be ordered from the USMS National Office as supplementary giveaways.

There is no cost to use one of these promotional displays. USMS pays the shipping and the recipient will be reimbursed for mailing the display either to the next location or back to USMS. For more information, contact Mel Goldstein. Include how the display will be used, where it should be shipped and the dates it will be needed.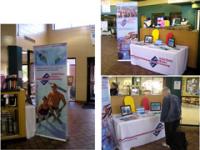 The displays have been to Oregon, Florida, Wisconsin, New York, Virginia, Texas, California, Kentucky, New Jersey, Arizona, and North Carolina. Comments have been uniformly positive and enthusiastic:
Our February mini-meet yesterday was a huge success. Thanks for providing the USMS display for the lobby of the Y. It attracted attention and additional entries. I think we may be able to leverage the success of the meet into more USMS members. Thanks.
--Bob Hopkins
Twenty-seven thousand people walked by our booth during the [Monument Ave. 10K] Expo* (a nonstop flow of humans for six hours on Thursday and 11 hours on Friday). Six hundred people stopped at our booth to stare, chat, ask questions, or take giveaways. Four hundred fifty USMS brochures ("Could I be a Masters Swimmer?") were distributed. We got that question a lot, incidentally, and most people smiled when we told them the only requirement was that they be at least 18 years old. Three hundredTwo hundred "Places to Swim in Richmond Area" distributed (we included those sites where a coach is on deck). registration forms were distributed (LMSC of Virginia). One hundred sixty each of Jack King and Chris Greene Lake open water entry forms were distributed. Eighty USMS SWIMMER magazines were distributed. Mel, the show display was very effective at drawing people in--many, many people walked up and asked questions like this:
"What exactly is Masters swimming / What's this all about?"
"Where do you swim?"
"I swam in high school and I really want to get back into it, what do you recommend?"
"What are the benefits of joining?"
"Listen, I can't do a flip turn and I've never been able to do butterfly, so how good do you have to be ?"
"Do you have to compete?"
"You mean it's just swimming for grown-ups?"

*This 10K is the fourth largest in the nation and was capped at 30,000 adult runners and 2,000 kids.

Thanks
--Dave Holland
---