Hotels
Discounted room rates are available until June 9th. All hotels require a non-refundable deposit of one night at the time of reservation.
---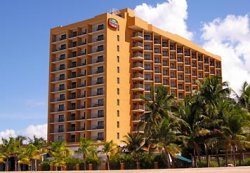 Courtyard Marriott Isla Verde Beach Resort
7012 Boca de Cangrejos Avenue
Isla Verde, Carolina, 00979 Puerto Rico
Located on the natatorium shuttle route
5.5 miles to natatorium
Rate $129 new rooms just opened up
Rate $135 Sold Out
Rate $149
Group Code: U.S. Masters Swimming
Reservations: (787) 791 - 0404
Block held until May 10, 2010
Amenities
Complimentary access to High Speed Internet
Two complimentary bottles of water per room per day
$25.00 Casino Match bet coupon per room
Special Full American Breakfast price of $11.95 instead of $15.95
15% Discount in Hotel Restaurants (Does not apply to already discounted prices or Combos)
Free high speed Internet
Frommer's Review
This is affordable Caribbean at its best. It's on a beautiful beach at the end of Isla Verde, with the public beach just to the east and Pine Grove beach, popular with surfers and sailors, just to the west. Close to the airport, the refurbished hotel serves meals on a wraparound veranda, and there are comfortable hammocks and beach chairs beside the pool and the beach in front. The 12-floor hotel rises on the site of the old Crowne Plaza. It's a big, bustling place with many amenities and midsize and well-furnished bedrooms. Art Deco furnishings dominate, and there is plenty of comfort. The casino and lobby restaurants are filled with the sounds of Latin rhythms at night. The pool and beach are great for kids. They can get surf lessons down the beach on foam boards designed for beginners.

Read more from Frommer's
---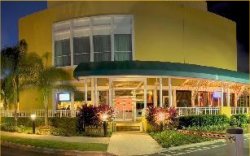 Verdanza Hotel
8020 Tartak Street
Isla Verde Carolina, Puerto Rico 00979
Located on the natatorium shuttle route
5 miles to the natatorium
Rate $111 - $161
Group Code: U.S. Masters Swimming
Reservations: (787) 253 - 9000
M-F 8:30 a.m. - 8:30 p.m.
Sat-Sun 8:30 a.m. - 6:00 p.m.
Amenities
Special rate of $15 for breakfast at Eighty20 Bistro
15% discount card to be used at Eighty20 Bistro and Coladas restaurants onsite
Daily parking at discounted rate of $8
Free bottled water (2) daily
Free high speed Internet
---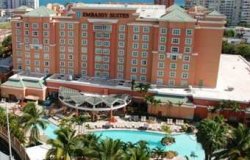 Embassy Suites Hotel & Casino
8000 Tartak Street
Isla Verde, Carolina, 00979 Puerto Rico
Located on the natatorium shuttle route
5 miles to the natatorium
Rate $140
Group Code: U.S. Masters Swimming
Reservations: (787) 791 - 0505
Amenities
Complimentary full buffet breakfast
Complimentary cocktails from 5:30 - 7:30 daily
Free high speed Internet
$10 Match Bet Coupons per guest
Daily parking at discounted rate of $12
Frommer's Review
The location is 2 blocks from the beach, and the hotel has its own water world, with waterfalls and reflecting ponds set against a backdrop of palms. As you enter, you're greeted with an aquarium, giving a tropical-resort aura to the place. The excellent accommodations are all suites, and they're comfortably furnished and roomy, with bedrooms separated from the living rooms. Each has a wet bar, a tub/shower combination bathroom, two phones, a safe, and a dining table. The most spacious suites are those with two double beds; each of the smaller suites is furnished with a king-size bed. The best view of the water is from units above the third floor. Two restaurants are on the premises, including the Waterfalls at the Atrium Restaurant, a low-key indoor/outdoor affair, and an independently managed Outback Steakhouse branch. Also available for dining are the Atriums Café and the Coqui Pool Bar. There's also a small-scale casino on the property.

Read more from Frommer's
---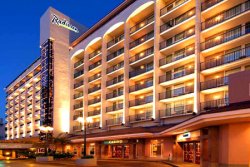 Radisson Ambassador Plaza Hotel and Casino San Juan
1369 Ashford Avenue
Condado, San Juan, Puerto Rico 00907
Closest hotel to the natatorium
2 miles to the natatorium
Rate $119 - $139
Group Code: U.S. Masters Swimming
Reservations: (787) 721 - 7509

This hotel is closest to the Open Water Swim and the natatorium

View photo tour of hotel
Amenities
Walking distance to the Condado Beach
Daily parking at discounted rate of $10
Full American breakfast at reduced price of $11.95
Free high speed Internet access
10% coupon for the Ambassador Grill
Onsight casino with match-bet coupon