U.S. Masters Swimming Articles & Videos
Presented by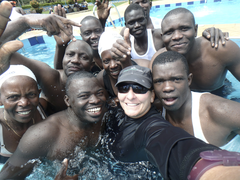 Adult Learn-to-Swim / Human Interest
The Coronado Masters Association swimmer and USMS-certified adult learn-to-swim instructor helped teach 121 adults and 309 children over 10 days during the early-October trip to the Ssese Islands, a group of 84 islands in the East African country.
Adult Learn-to-Swim
Four children from Como, a historically African-American community in Fort Worth, drowned in 2015, deaths that led the Fort Worth Drowning Prevention Coalition to partner with a local swim school and Como First Missionary Baptist Church to provide free swim lessons.
Adult Learn-to-Swim
The headlines in Fort Worth, Texas, had been harrowing. Several fatal drownings, including one of a Masters swimmer who had been swimming in a lake, had led recent newscasts, and the Masters swimmers on Fort Worth's Team Ridglea were paying attention.
Adult Learn-to-Swim
Steve Woolson was one of 29 people who signed up for adult learn-to-swim classes offered in April at a YMCA in Sarasota, Fla. Members of the Sarasota YMCA Sharks Masters club volunteered their time to teach the twice-a-week lessons.
Adult Learn-to-Swim
Aaron Taylor struggled to find students for adult learn-to-swim classes at his Sarasota, Fla., YMCA branch for the first three months of the year. The U.S. Masters Swimming ALTS initiative fixed the aquatics director's problem in April.
Adult Learn-to-Swim
Sarasota (Fla.) Y Sharks Swimmer Bill Ewell completed the U.S. Masters Swimming's adult learn-to-swim instructor certification course in 2016 and has taught ALTS lessons since April at a YMCA.
Adult Learn-to-Swim / Human Interest
With three children and three grandchildren who are or were competitive swimmers, my father, 74, has spent a good part of the past 40 years going to swim lessons, practices, meets, and water polo matches. But, by his own description, he floats "like a dead body."

The USMS website contains articles about sports medicine, health, and nutrition. This information is not intended to be a substitute for professional or medical advice on personal health matters. For personal medical advice, or if you are concerned about a medical condition or injury, see your healthcare provider for evaluation and care. The USMS website also contains articles about swim training and technique, including drills and workouts. All swimmers should be evaluated by a healthcare professional prior to beginning swim training. In addition, consult with a trained coach when introducing new technique or drills to your swim training program.