U.S. Masters Swimming Articles & Videos
Presented by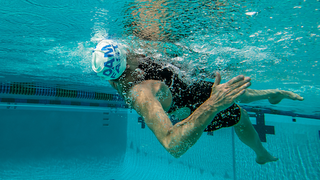 Technique and Training
The lateral upper-body line is an imaginary line running from elbow to elbow through the collarbones or clavicles when the arms are extended straight out to the sides. If it helps, think of making a...
Coaches Only
When swimmers talk about flexibility, they're usually referring to exercises that increase range of motion, such as those discussed in the January-February 2014 issue of SWIMMER magazine. But...
Human Interest
The recent U.S. Olympic Trials included more than 40 current or former U.S. Masters Swimming members who were either competing there for the first time, or were seasoned pros at the most intense...
About USMS
Anthony Sullivan, star of the Discovery Channel's "Pitchmen" series and renowned spokesperson for OxiClean, Stick-Up Bulbs, Swivel Sweepers, and other beloved products, has teamed up with U.S. Masters Swimming.
About USMS
Legendary pitchman Anthony Sullivan knows a great product when he sees one. In this infomercial, Sully captures all the best benefits of joining a U.S. Masters Swimming program. Swimming really is "The Greatest Workout of Them All!"
About USMS
Swimming will take center-stage in Rio de Janiero this month and interest in the sport of swimming will increase through TV viewership, internet searches, and inquiries at local pools across the...
Products and Reviews
Swimmers' hair and skin inevitably develop issues in the summer time because of an increased exposure to oxidizers. Because your hair typically gets more sun exposure in the summer, that helps...

The USMS website contains articles about sports medicine, health, and nutrition. This information is not intended to be a substitute for professional or medical advice on personal health matters. For personal medical advice, or if you are concerned about a medical condition or injury, see your healthcare provider for evaluation and care. The USMS website also contains articles about swim training and technique, including drills and workouts. All swimmers should be evaluated by a healthcare professional prior to beginning swim training. In addition, consult with a trained coach when introducing new technique or drills to your swim training program.