U.S. Masters Swimming Articles & Videos
Presented by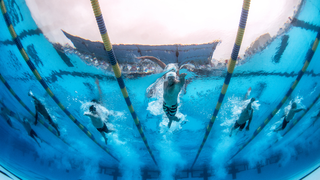 Coaching / Stroke Technique
Observers of elite swimming have noted that some of the fastest freestylers are flattening out—rotating less—specifically in the hips. This is especially true for the sprinters, who tend to drive their stroke with a flat kick, rotating only their upper bodies.
Coaching
Athletes join Masters swim teams for a variety of reasons. As coaches, we're most effective when we get to know our swimmers personally and truly understand their individual needs and goals....
Coaching / Stroke Technique
Ask yourself: "Am I a bad kicker?" Do you go first on swim and pull sets and last on kick sets? Do you find a reason to adjust your goggles, go to the locker room, fake an injury, or modify the...
Coaching
We each have our favorite workouts to do, and we each have sets we'd prefer to avoid. As a distance swimmer, I love to do timed 1650s all day long, but I dread the very idea of sprinting a single...
Coaching
To combat these difficulties our coaching staff decided to type and print each workout, place it in a plastic Ziploc bag, and put a copy at the end of each lane for every practice. We still give...
Coaching / Training
Swimming on your own has its advantages and disadvantages. Some Masters swimmers have had great success by swimming on their own or with one other person from time to time. On the pro side, when...
Coaching / Training
The swimmers who set records in distance swimming typically split their races very evenly. In Sun Yang's 1500-meter race at the 2012 Olympics, his 50 splits varied by only a few tenths of a second throughout the race, and his front and back half times were nearly identical.

The USMS website contains articles about sports medicine, health, and nutrition. This information is not intended to be a substitute for professional or medical advice on personal health matters. For personal medical advice, or if you are concerned about a medical condition or injury, see your healthcare provider for evaluation and care. The USMS website also contains articles about swim training and technique, including drills and workouts. All swimmers should be evaluated by a healthcare professional prior to beginning swim training. In addition, consult with a trained coach when introducing new technique or drills to your swim training program.