U.S. Masters Swimming Articles & Videos
Presented by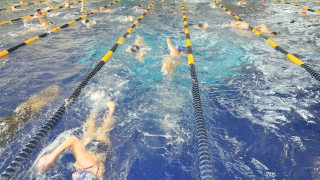 Fitness / Training
Safety always comes first, and swimming's first rule is never to swim alone. Because you will always be swimming with other people, offer them the type of respect you wish to receive. Swim friendly....
Drills / Open Water / Stroke Technique / Training / Triathlon
It's undeniable: many triathletes consider themselves cyclists or runners and regard the first part of the race as something to be tolerated, or worse, feared. Swimming in a frenzied open-water pack...
Advertorial / Training
I love toys. Some people love toys that help them take care of their yard. Others like toys to build stuff. Still, others like toys that help them fish, hit a golf ball farther, or drive faster....
Coaching / Starts and Turns / Training
If you're a competitive Masters swimmer, then you barely have enough time for swim practice, much less starts. To make the most of whatever time you do have, here's a quick checklist of toys,...
Coaching / Drills / Open Water / Training
Open water training creates some unique challenges for Masters coaches. Some have the luxury of open water venues for practice but for most coaches, the pool is still the rule. However, to serve our...
Coaching / Training
At the end of February, I had a conversation with an old friend who is now the head men's swimming coach at a Division I university. His team had just finished up its conference meet. I dropped him...
Advertorial / Stroke Technique / Training
In a Masters workout, sometimes being a breaststroker feels like being the odd swimmer out; you feel so different from the crowd. Even if you live on the same axle rotation as your cousin, the...

The USMS website contains articles about sports medicine, health, and nutrition. This information is not intended to be a substitute for professional or medical advice on personal health matters. For personal medical advice, or if you are concerned about a medical condition or injury, see your healthcare provider for evaluation and care. The USMS website also contains articles about swim training and technique, including drills and workouts. All swimmers should be evaluated by a healthcare professional prior to beginning swim training. In addition, consult with a trained coach when introducing new technique or drills to your swim training program.