U.S. Masters Swimming Articles & Videos
Presented by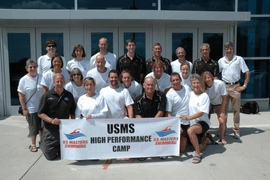 Coaching / Training
The wait was six years. The place was no longer the Olympic Training Center in Colorado Springs, but the brand-new Greensboro Aquatic Center in Greensboro, N.C. The USMS High Performance Camp...
Coaching / Drills / Training
Warm Up Be sure and do a thorough warm up of 400-700 yards.
Drylands / Fitness / Sports Medicine / Training
Hunched shoulders and tight pecs anyone? As a swimmer you probably know that these anatomical pitfalls tend to come with regular swimming when you don't stretch and counter pose from the repetitive...
Fitness / Training
Recently I attended the Walnut Creek Intensive Swim Camp, a fun-filled three days of instruction and long workouts with tons of individualized feedback. Swimmers couldn't approach the wall without...
Training
One of the greatest contributions to psychology in the 20th Century came from research done at the University of Rhode Island. In a book entitled "Changing for Good," James Prochaska, Ph.D., John...
Sports Medicine / Training
High blood pressure (HBP) and unusual stress can cause a hemorrhagic stroke, not usually as devastating as an ischemic stroke, which is the most common type of stroke and is caused by a clot or other...
Coaching / Training
How can we make sure that all our swimmers are getting a good workout— one that is challenging for each swimmer's respective ability and experience level? There are two things we must remember as...

The USMS website contains articles about sports medicine, health, and nutrition. This information is not intended to be a substitute for professional or medical advice on personal health matters. For personal medical advice, or if you are concerned about a medical condition or injury, see your healthcare provider for evaluation and care. The USMS website also contains articles about swim training and technique, including drills and workouts. All swimmers should be evaluated by a healthcare professional prior to beginning swim training. In addition, consult with a trained coach when introducing new technique or drills to your swim training program.