U.S. Masters Swimming Articles & Videos
Presented by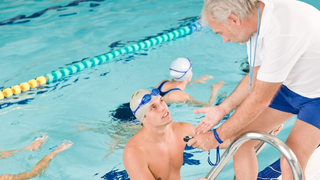 Drills / Training
"My coach often has us do drills or other activities that don't involve swimming. My training time is limited. Wouldn't it be better to spend that time swimming instead?" Great question! Hold that thought while we take in a picture show…
Adult Learn-to-Swim / Drills / Training
Water is not our natural environment. Some swimmers are better at adapting to the aquatic world than others. When you don't feel comfortable, your body will never be able to realize its full potential in any environment, much less in the pool.
Drills / Training
If you don't have a coach helping you, start this set from whatever end necessary to get the best look at the pace clock for accurate sprint times. Be sure you've had a full warm-up prior to starting this high-intensity sprint set.
Stroke Technique / Training / Triathlon
Before you begin incorporating training equipment into your workout sets, it's important to understand that such tools should be used to correct technique, not swim faster in training sets....
Training
As a kid you may have heard, "don't take such a big bite" during mealtime. And we've all heard the analogy of eating the elephant "one bite at a time." The same philosophy holds true for...
Training
Butterflies in your stomach, sweaty palms, racing heartbeat, and dry mouth—these are the calling cards of "nerves" that all competitors have probably felt before a race. They're not pleasant, but the key is to use those jitters to your advantage; don't let them overwhelm you. 
Advertorial / Stroke Technique / Training
When most people think of a monofin, they probably visualize a mermaid gracefully undulating through a fictional underwater paradise. Not just the stuff of fairytales, this large, single-blade fin can be found on pool decks around the country and has contributed to many Olympic gold medals.

The USMS website contains articles about sports medicine, health, and nutrition. This information is not intended to be a substitute for professional or medical advice on personal health matters. For personal medical advice, or if you are concerned about a medical condition or injury, see your healthcare provider for evaluation and care. The USMS website also contains articles about swim training and technique, including drills and workouts. All swimmers should be evaluated by a healthcare professional prior to beginning swim training. In addition, consult with a trained coach when introducing new technique or drills to your swim training program.