U.S. Masters Swimming Articles & Videos
Presented by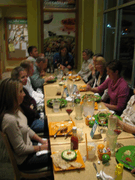 Human Interest / USMS Clubs / USMS Promotional
What do your church, your college alumni association, the dog park and Facebook have in common? Each of these networks offers you a sense of community, a group of people with whom you share a common bond and a place where you feel at home.
USMS Clubs / USMS Promotional
USMS has three display units that are loaned, free of charge, to promote our organization at health fairs, triathlons, running events, open water swims, lobbies of YMCAs, recreation centers, and at...
Events / USMS Clubs
Milky Way Masters won their fourth consecutive and 13th Iowa state title since the first meet was contested in 1982.  The meet was held at Coe College Natatorium on April 6.Milky Way Masters scored...
Human Interest / USMS Clubs
Michigan Masters, under the leadership of Fred Nelis, Chairman of Michigan Masters, and Ralph Davis, Michigan Masters Vice-Chair, developed a program to promote and provide financial assistance to...
Training / USMS Clubs / USMS Promotional
As US Masters Swimming membership numbers break records new clubs are forming across the country.  A new coach shares her story of building a program from scratch and seasoned veterans offer their advice...
Training / USMS Clubs
Human interest, news, records, personalities, recipes and more.  Local Masters Swimming Committess, local programs and volunteers keep U.S. Masters swimmers informed and engaged.  Are you green?  Find out how some are cutting waste and costs.  
Human Interest / USMS Clubs
As the holidays fast approach, each of us seem to feel an overwhelming sense of reflection and often ask ourselves, "How do I contribute to mankind?"  A Masters program in Kentucky has learned that it is easy to give back...

The USMS website contains articles about sports medicine, health, and nutrition. This information is not intended to be a substitute for professional or medical advice on personal health matters. For personal medical advice, or if you are concerned about a medical condition or injury, see your healthcare provider for evaluation and care. The USMS website also contains articles about swim training and technique, including drills and workouts. All swimmers should be evaluated by a healthcare professional prior to beginning swim training. In addition, consult with a trained coach when introducing new technique or drills to your swim training program.