U.S. Masters Swimming Articles & Videos
Presented by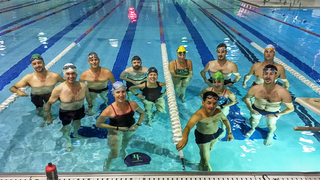 About USMS
The August membership drive was a success for clubs of all shapes and sizes, and at the larger end of the spectrum, Lane 4 Swimming (Potomac Valley) finished in second place with 47 new members. That...
About USMS
U.S. Masters Swimming has concluded its annual meeting during the United States Aquatic Sports Convention. In addition to committee meetings and rules and legislation reviews, USMS held at-large director elections and honored many of its deserving volunteers with service awards.
About USMS
Linda Bostic, 52, never intended to found one of the fastest-growing Masters programs in the country or to become a top coach within U.S. Masters Swimming. All she was looking to do back in 2009 was to start swimming again. 
About USMS
When U.S. Masters Swimming began in 1970, Mark Spitz had only earned his first two Olympic gold medals, and Michael Phelps was 15 years away from even being born. Today, the Spitz poster I had in my...
About USMS
Anthony Sullivan, star of the Discovery Channel's "Pitchmen" series and renowned spokesperson for OxiClean, Stick-Up Bulbs, Swivel Sweepers, and other beloved products, has teamed up with U.S. Masters Swimming.
About USMS
Swimming will take center-stage in Rio de Janiero this month and interest in the sport of swimming will increase through TV viewership, internet searches, and inquiries at local pools across the...
About USMS
Legendary pitchman Anthony Sullivan knows a great product when he sees one. In this infomercial, Sully captures all the best benefits of joining a U.S. Masters Swimming program. Swimming really is "The Greatest Workout of Them All!"

The USMS website contains articles about sports medicine, health, and nutrition. This information is not intended to be a substitute for professional or medical advice on personal health matters. For personal medical advice, or if you are concerned about a medical condition or injury, see your healthcare provider for evaluation and care. The USMS website also contains articles about swim training and technique, including drills and workouts. All swimmers should be evaluated by a healthcare professional prior to beginning swim training. In addition, consult with a trained coach when introducing new technique or drills to your swim training program.