U.S. Masters Swimming Articles & Videos
Presented by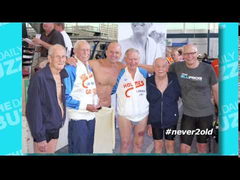 About USMS / Human Interest
Rowdy Gaines and Tiger Holmes appearing on the Daily Buzz after Tiger and his nonagenerian teammates made history at the 2014 Rowdy Gaines Classic. Breaking records and winning medals is cool at any age, but the health benefit of swimming is the underlying important message here. #never2old #swimmingforlife
Human Interest
In 1521, Spanish explorer Juan Ponce de Leon was killed on a beach near what would eventually become Fort Myers, Fla. History tells us the famous conquistador met his maker at the business end of a...
Human Interest
I always look forward to meeting new people, whether it's through travel, working out, or practicing with different Masters swim clubs. Recently my wife and I and our two oldest sons planned to...
Human Interest / Open Water
With a surname like McKee, a trip to Scotland must be on life's bucket list. And no trip to Scotland would be complete without a visit to venerable Loch Ness. But we crazy swimmers are never...
Human Interest
Every year, Masters aquatic athletes from around the world are inducted into the International Masters Swimming Hall of Fame, and this year's class of seven inductees includes three U.S. Masters...
Human Interest
Profiled in the September-October issue of SWIMMER magazine, Masters swimmer Vic Wagoner talks about the motorcycle accident that cost him his leg and nearly his life. Incredibly, this Los Angeles...
Human Interest
When I was asked to write a brief remembrance piece of Paul Hutinger and June Krauser—two pillars of the early days of U.S. Masters Swimming who dedicated so much time and energy to building the...

The USMS website contains articles about sports medicine, health, and nutrition. This information is not intended to be a substitute for professional or medical advice on personal health matters. For personal medical advice, or if you are concerned about a medical condition or injury, see your healthcare provider for evaluation and care. The USMS website also contains articles about swim training and technique, including drills and workouts. All swimmers should be evaluated by a healthcare professional prior to beginning swim training. In addition, consult with a trained coach when introducing new technique or drills to your swim training program.