U.S. Masters Swimming Articles & Videos
Presented by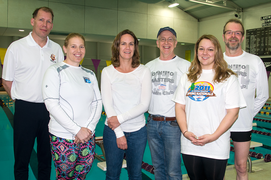 Adult Learn-to-Swim / Human Interest / Open Water
What's a weekend worth in the quest to make sure every adult in the United States is water-safe? That's the question two teams recently asked themselves in setting out to swim for change. And...
Human Interest
Sarasota, Fla., March 25, 2016—April is Adult Learn-to-Swim month. According to the CDC, about 10 people drown every day in the United States—the majority of them adults or young adults. The...
Human Interest
From the time he could walk, Charles Lee jumped into the lake at his family's summer retreat near Terre Haute, Ind. The property, dubbed "Lock Lee," sat on two lakes, one of which was a...
Human Interest
Your teammates are your family. Our tight-knit community bonds swimmers together across miles and years. Whether you've hung up the suit or continue the journey, your teammates and the experiences you've shared will last a lifetime.
Human Interest
Every year, the International Masters Swimming Hall of Fame inducts a select few Masters aquatic athletes. Out of this year's class of seven inductees, three USMS members have been chosen to...
Human Interest
Tank McNamara is a very recent survivor of testicular cancer who is reaching out to help other swimmers who have been diagnosed with or treated for this type of cancer. Although he notes that there is still a 20 percent chance of relapse, he comments that he is "hoping for the best in that regard." 
Adult Learn-to-Swim / Human Interest
Tselane Gardner, 48, of Rose Bowl Masters, didn't grow up a swimmer. Rather, she had a few, limited interactions with a neighbor's pool in the summers. "I didn't really know how to swim, so I'd just play around in the shallow end and have fun," she recalls. 

The USMS website contains articles about sports medicine, health, and nutrition. This information is not intended to be a substitute for professional or medical advice on personal health matters. For personal medical advice, or if you are concerned about a medical condition or injury, see your healthcare provider for evaluation and care. The USMS website also contains articles about swim training and technique, including drills and workouts. All swimmers should be evaluated by a healthcare professional prior to beginning swim training. In addition, consult with a trained coach when introducing new technique or drills to your swim training program.