U.S. Masters Swimming Articles & Videos
Presented by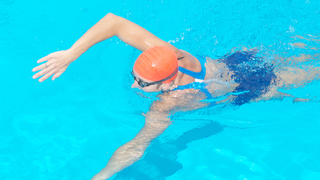 Coaches Only / Open Water / Technique and Training
Open water training creates some unique challenges for Masters coaches. Some have the luxury of open water venues for practice but for most coaches, the pool is still the rule. However, to serve our...
Open Water
One of the best parts of organizing your own swim is that the start is a low key affair. No one is sprinting. There are no bullhorns. You just walk into the water when you're good and ready. Sure,...
About USMS / Events / Open Water
For the past three years, several USMS swimmers have asked for a 25K open water event. This year, they finally got their wish and 45 solo swimmers signed up for this inaugural event. Twenty-six...
Open Water
Steve Munatones, a U.S. Masters Swimming expert on open water swimming, discusses the use of three types of open water feeding systems.
Human Interest / Open Water
It was a perfect day for a swim. Well, not exactly a swim—more like a race. There were about 50 of us standing in our swimsuits, goggles in one hand, neoprene black caps in the other, waiting to...
Open Water / Technique and Training
I ask every triathlete I coach, "How do you change your stroke when you swim in a wetsuit?" Few ever get the answer right. The say things like "Uh, well I float better so I don't kick at all." I rarely get much beyond the mention of the increased buoyancy and using the legs less or not at all.
Open Water
As the sport of open water swimming grows, more and more swimmers have experimented with open water swimming gear. One piece of gear that open water swimmers can use to their advantage is the...

The USMS website contains articles about sports medicine, health, and nutrition. This information is not intended to be a substitute for professional or medical advice on personal health matters. For personal medical advice, or if you are concerned about a medical condition or injury, see your healthcare provider for evaluation and care. The USMS website also contains articles about swim training and technique, including drills and workouts. All swimmers should be evaluated by a healthcare professional prior to beginning swim training. In addition, consult with a trained coach when introducing new technique or drills to your swim training program.