U.S. Masters Swimming Articles & Videos
Presented by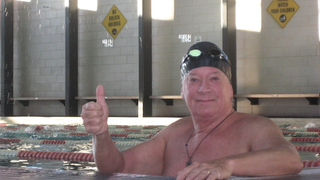 Human Interest / Open Water
When I was 12 years old, I was a promising swimmer. My dad and I regularly swam the width of Lake George, New York. The lake was 3.3 miles at its widest point. We worked our way up to doing it five...
Open Water
Having heard about the merits of open water swimming from several of my Masters teammates I had to try one myself. But before attempting one of the big swims, such as Alcatraz or La Jolla, I thought I should aim for something a little less strenuous and much closer to home.
Open Water / Triathlon
Sara McLarty walks us through open water starts for the March/April issue of SWIMMER Magazine.
About USMS / Events / Open Water
The USMS Board of Directors appointed an Open Water Sanction Task Force to recommend new guidelines for sanctioning open water events. The task force, which consisted of staff, volunteer leaders, and...
Open Water / Technique and Training / Triathlon
It's undeniable: many triathletes consider themselves cyclists or runners and regard the first part of the race as something to be tolerated, or worse, feared. Swimming in a frenzied open-water pack...
Events / Open Water
Whether you live for fighting swells, whitecaps, and currents or you're getting ready to leave the safety of lane lines for the first time, it's hard to beat the allure and challenge of open...
Open Water
It's alive! History, that is. And a lot of other stuff, but if you plan your swim well, you'll probably avoid the sharks. Vito Bialla wants to help you with that planning. "We want to bring...

The USMS website contains articles about sports medicine, health, and nutrition. This information is not intended to be a substitute for professional or medical advice on personal health matters. For personal medical advice, or if you are concerned about a medical condition or injury, see your healthcare provider for evaluation and care. The USMS website also contains articles about swim training and technique, including drills and workouts. All swimmers should be evaluated by a healthcare professional prior to beginning swim training. In addition, consult with a trained coach when introducing new technique or drills to your swim training program.