U.S. Masters Swimming Articles & Videos
Presented by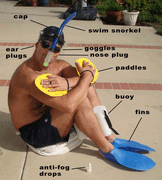 Fitness / Human Interest / Training
With my back troubles, swimming has become my main source of exercise. Naively, I thought that all I'd need to practice this sport was a swimsuit (and that only because of modesty). Wrong! There is...
Fitness
If there is a theme to my swimming career it can probably be called, surrounded by greatness. I grew up on the north side of Chicago. My family had a cabin on the Southeastern shores of Lake...
Drylands / Fitness / Sports Medicine / Training
Hunched shoulders and tight pecs anyone? As a swimmer you probably know that these anatomical pitfalls tend to come with regular swimming when you don't stretch and counter pose from the repetitive...
Fitness
I received an email from a sports psychologist colleague of mine the other day. She was horrified to read a recent study article that cast doubt on the task-performance value of the self-affirmative...
Fitness
Jim Ryan swims in the 50-55 age group. In 2006 he and a group of fellow swimmers at the Greater Plymouth Community Center in Pennsylvania entered the pool's East Coast Virtual Swim challenge. He...
Fitness / Training
Recently I attended the Walnut Creek Intensive Swim Camp, a fun-filled three days of instruction and long workouts with tons of individualized feedback. Swimmers couldn't approach the wall without...
Fitness
Viewers who visit the Short Course Nationals page on the USMS website can enjoy the daily recap videos of the event. USMS Executive Director Rob Butcher and three-time Olympic gold medalist Rowdy...

The USMS website contains articles about sports medicine, health, and nutrition. This information is not intended to be a substitute for professional or medical advice on personal health matters. For personal medical advice, or if you are concerned about a medical condition or injury, see your healthcare provider for evaluation and care. The USMS website also contains articles about swim training and technique, including drills and workouts. All swimmers should be evaluated by a healthcare professional prior to beginning swim training. In addition, consult with a trained coach when introducing new technique or drills to your swim training program.