U.S. Masters Swimming Articles & Videos
Presented by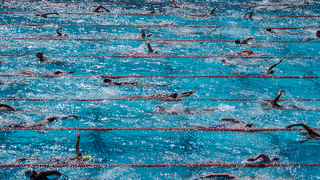 Technique and Training
Here are a few tips for how you can work around difficult situations for a great meet warm-up.
Technique and Training
You might think of your coach as a cruel taskmaster, driven by delight in seeing swimmers suffer. Yet, although your coach might break into a smile when you complain about being tired, the reality is...
Health and Nutrition / Technique and Training
Eating during a taper means making slight changes, so if you're thinking of doing anything drastic, don't. Leave any radical changes for the beginning of the training season, not at the end or...
Coaches Only / Technique and Training
Here's a six-week taper plan with the 2017 U.S. Masters Swimming Summer National Championship approaching soon.
Technique and Training
Spring Nationals is over and many swimmers are turning their attention to long-course season. One way to make a successful transition, whether you want to compete in Summer Nationals or other meets...
Drills / Starts and Turns / Technique and Training
Here are a few questions to ask yourself before vowing to become an awesome SDKer.
Technique and Training
Your distance per stroke tells only part of the story in terms of your stroke.

The USMS website contains articles about sports medicine, health, and nutrition. This information is not intended to be a substitute for professional or medical advice on personal health matters. For personal medical advice, or if you are concerned about a medical condition or injury, see your healthcare provider for evaluation and care. The USMS website also contains articles about swim training and technique, including drills and workouts. All swimmers should be evaluated by a healthcare professional prior to beginning swim training. In addition, consult with a trained coach when introducing new technique or drills to your swim training program.