U.S. Masters Swimming Articles & Videos
Presented by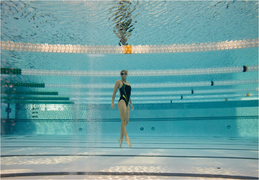 Products and Reviews
Tell us why you swim by Oct. 16 for a chance to win a weekend spa getaway with a visit from Olympian Amanda Beard. Also, spin the jackpot for your chance to win free Aqua Sphere goggles!
Products and Reviews
Training fins are lightweight tools that can have a big-time impact. They help swimmers improve their endurance, leg strength, and technique—things that can help you achieve that personal best or improve your fitness level.
Products and Reviews
When it comes to fashion and team spirit, swimmers love to stand out. Whether it's with matching logo-embroidered warm-ups, screen tees, funny hats, or bright caps in team colors, showing team spirit and individual personality is easy with the availability of customizable products.
Products and Reviews / Technique and Training
If there was anything to be learned from the 2016 Olympic Games, it's that swimmers are not only getting faster than ever (even when it was thought to be impossible following the "super suit"...
Products and Reviews
There's training gear and then there's racing gear and competitive swimmers know the value of a complete, proper race kit. From the common sense (fog-free goggles) to the sophisticated (high-tech suits), having the right equipment for the race can help you beat your competitors to that final wall.
Products and Reviews
We've all been there. On a hot summer day, you return to your parked car after a few hours of swimming at the local pool. Opening the door, you're met by a burst of hot air that makes you feel...
Products and Reviews
Swimmers' hair and skin inevitably develop issues in the summer time because of an increased exposure to oxidizers. Because your hair typically gets more sun exposure in the summer, that helps...

The USMS website contains articles about sports medicine, health, and nutrition. This information is not intended to be a substitute for professional or medical advice on personal health matters. For personal medical advice, or if you are concerned about a medical condition or injury, see your healthcare provider for evaluation and care. The USMS website also contains articles about swim training and technique, including drills and workouts. All swimmers should be evaluated by a healthcare professional prior to beginning swim training. In addition, consult with a trained coach when introducing new technique or drills to your swim training program.