U.S. Masters Swimming Articles & Videos
Presented by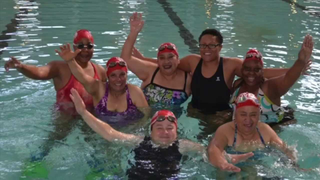 Adult Learn-to-Swim / USMS Clubs
Coach Benicia Rivera of the Richmond Plunge Masters received a Swimming Saves Lives Foundation Grant in 2014. What she did with it will warm your heart. She sent us this video as a thank-you for the grant. Thank YOU, Coach Rivera, for all you've done here.
USMS Clubs
Join U.S. Masters Swimming Editor-in-Chief Laura Hamel as she travels through the San Francisco Bay Area to visit Masters swimming clubs. Several members explain what it means to them to be a part of Masters Swimming.
USMS Clubs
U.S. Masters Swimming Coach Stu Kahn, who heads Davis Aquatic Masters, discusses his experiences with the team. His wife and Assistant Coach, Mary Kahn, tells us a little bit about what DAM has to offer.
USMS Clubs
U.S. Masters Swimming Coach Patti Scott-Baier talks about her club, Tuolumne County Aquatics Masters, based in Sonora, California. Occupying a 10-lane, 25-yard pool at the Sonora Sport and Fitness Center, this club caters to over 350 Masters swimmers.
USMS Clubs
U.S. Masters Swimming Coach Patty Waldron talks about her club and her hopes for the future of the program. She also reflects on what it's like to be connected to SwimMAC Carolina, a nationally recognized, competitive swim program.
USMS Clubs
Rose Bowl Aquatics Masters is an adult training program based in Pasadena, Calif. U.S. Masters Coach Chad Durieux talks about his club, as well as how he coaches his workouts. The atmosphere on his team is a good mixture of dedication and fun, incorporation all ages and skill levels.
Events / USMS Clubs
The 2010 SCY Zone Championships was held April 23--25 at George Mason University in Fairfax, Va. More than five hundred swimmers entered, representing 66 teams. Meet director Cheryl Ward and husband, Peter Ward, talk about the unique relationship with the university swim team.

The USMS website contains articles about sports medicine, health, and nutrition. This information is not intended to be a substitute for professional or medical advice on personal health matters. For personal medical advice, or if you are concerned about a medical condition or injury, see your healthcare provider for evaluation and care. The USMS website also contains articles about swim training and technique, including drills and workouts. All swimmers should be evaluated by a healthcare professional prior to beginning swim training. In addition, consult with a trained coach when introducing new technique or drills to your swim training program.