U.S. Masters Swimming Articles & Videos
Presented by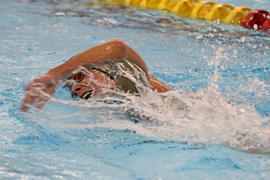 Human Interest
After a 30-year break from any type of swimming, I needed to jump-start my gym routine because my running days were over. The pool was the obvious answer—I was a swimmer!
Human Interest
This past August, Colorado Masters Swimming member Sarah Thomas swam 104.6 miles in a single go.
Human Interest
As one of 134 volunteers, swimmer Margot Pettijohn leads horses and riders through 30-minute- or hour-long riding lessons. 
Adult Learn-to-Swim / Human Interest
The Coronado Masters Association swimmer and USMS-certified adult learn-to-swim instructor helped teach 121 adults and 309 children over 10 days during the early-October trip to the Ssese Islands, a group of 84 islands in the East African country.
Human Interest
Houston Cougar Masters swimmer Helena Finley was just one of many U.S. Masters Swimming members impacted by Harvey, which hit Texas on Aug. 25 as a Category 4 hurricane.
Events / Human Interest
The 75-year-old AnnLiv Bacon and another swimmer at Summer Nationals who has undergone joint replacement surgery, the 80-year-old Owen Ackerman of Illinois Masters, hope they can teach two lessons to the seven million-plus Americans who have had a joint replaced.
Adult Learn-to-Swim / Human Interest
With three children and three grandchildren who are or were competitive swimmers, my father, 74, has spent a good part of the past 40 years going to swim lessons, practices, meets, and water polo matches. But, by his own description, he floats "like a dead body."

The USMS website contains articles about sports medicine, health, and nutrition. This information is not intended to be a substitute for professional or medical advice on personal health matters. For personal medical advice, or if you are concerned about a medical condition or injury, see your healthcare provider for evaluation and care. The USMS website also contains articles about swim training and technique, including drills and workouts. All swimmers should be evaluated by a healthcare professional prior to beginning swim training. In addition, consult with a trained coach when introducing new technique or drills to your swim training program.