U.S. Masters Swimming Articles & Videos
Presented by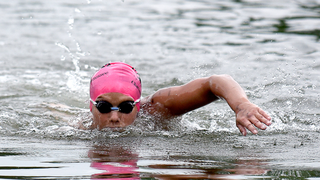 Events / Open Water
Gulliver Swim Club's Ricardo Valdivia was the fastest male in the ultramarathon distance, which was 9.2 miles, with a time of 2:05:30, slightly more than 2 minutes faster than...
Human Interest / Open Water
Ashley Braniecki, C.C. Skoch, Kristen Bergmann, Jay DeFinis, Chuck Beatty, and Kevin Kelley completed a 36-mile relay to raise money for the Swimming Saves Lives Foundation last year.
Open Water / Triathlon
Triathlon is a fast-growing sport with a lot of appeal. Part of what makes it so compelling is the combination of three different disciplines into a single event. And it's a great sport for...
Open Water
Dealing with changing conditions is one of the unique challenges in open water swimming. Depending upon geographical location, seasonal changes can drastically impact the water temperature. The dangers of swimming in excessively warm water are well known, but what about swimming in cold water?
Adult Learn-to-Swim / Human Interest / Open Water
What's a weekend worth in the quest to make sure every adult in the United States is water-safe? That's the question two teams recently asked themselves in setting out to swim for change. And...
Drills / Open Water / Triathlon
In order to maximize pool workouts for triathlon, training should focus not only on building aerobic endurance, but also on technique appropriate for efficient swimming in a dynamic open water...
Open Water / Triathlon
Yes, it is true that a well-designed wetsuit can make a dazzling fashion statement—especially if it has superhero muscle designs painted on it. But the real advantage of wearing a wetsuit in open...

The USMS website contains articles about sports medicine, health, and nutrition. This information is not intended to be a substitute for professional or medical advice on personal health matters. For personal medical advice, or if you are concerned about a medical condition or injury, see your healthcare provider for evaluation and care. The USMS website also contains articles about swim training and technique, including drills and workouts. All swimmers should be evaluated by a healthcare professional prior to beginning swim training. In addition, consult with a trained coach when introducing new technique or drills to your swim training program.