U.S. Masters Swimming Articles & Videos
Presented by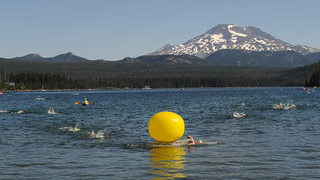 Events / Open Water
Hardy Lussier's dedication helped him come in second place on the men's side with a time of 1:05:51 on Sunday in the U.S. Masters Swimming Long Distance Open Water National Championship. The 5-kilometer race was in Elk Lake in Oregon about 200 miles southeast of Portland.
Health and Nutrition / Open Water
An open water swim can be daunting but also exhilarating, fulfilling, and fun. To be a successful open water swimmer you must have a nutrition plan. Your nutrition plan should include fuel and hydration supplementation for both your training sessions and for your open water event.
Events / Open Water
Abbey Erwin edged out her father, Jeff Erwin, to win the 2-Mile Cable Open Water title in Oregon
Events / Open Water
Gulliver Swim Club's Ricardo Valdivia was the fastest male in the ultramarathon distance, which was 9.2 miles, with a time of 2:05:30, slightly more than 2 minutes faster than...
Human Interest / Open Water
Ashley Braniecki, C.C. Skoch, Kristen Bergmann, Jay DeFinis, Chuck Beatty, and Kevin Kelley completed a 36-mile relay to raise money for the Swimming Saves Lives Foundation last year.
Open Water / Triathlon
Triathlon is a fast-growing sport with a lot of appeal. Part of what makes it so compelling is the combination of three different disciplines into a single event. And it's a great sport for...
Open Water
Dealing with changing conditions is one of the unique challenges in open water swimming. Depending upon geographical location, seasonal changes can drastically impact the water temperature. The dangers of swimming in excessively warm water are well known, but what about swimming in cold water?

The USMS website contains articles about sports medicine, health, and nutrition. This information is not intended to be a substitute for professional or medical advice on personal health matters. For personal medical advice, or if you are concerned about a medical condition or injury, see your healthcare provider for evaluation and care. The USMS website also contains articles about swim training and technique, including drills and workouts. All swimmers should be evaluated by a healthcare professional prior to beginning swim training. In addition, consult with a trained coach when introducing new technique or drills to your swim training program.