U.S. Masters Swimming Articles & Videos
Presented by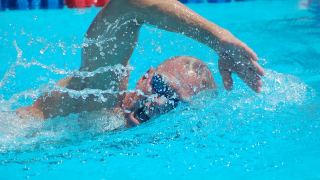 Coaches Only
Three essential concepts work together to form a tripod of support for solid swimming. While they seem intuitive to lifelong swimmers, it's important to explain, demonstrate, and hammer them home...
Health and Nutrition
Many Masters swimmers spend their early-morning hours before work in the pool. Some skip a preworkout meal, others take a few minutes to gobble something when they wake up. So, which is best?
Events
Mackenzie Leake's dedication led to a win in the U.S. Masters Swimming Sprint Distance Open Water National Championship, a 1-mile-long event held in Seattle on Saturday, with a time of 21 minutes, 55.0 seconds.
Technique and Training
A pull buoy (or any equipment, for that matter) should always be thought of as a tool, not a crutch.
Technique and Training
One of the most important things I've learned is that you must practice racing. It's important to use the starting blocks on a regular basis and perform turns at race speed.
Adult Learn-to-Swim
Four children from Como, a historically African-American community in Fort Worth, drowned in 2015, deaths that led the Fort Worth Drowning Prevention Coalition to partner with a local swim school and Como First Missionary Baptist Church to provide free swim lessons.
Adult Learn-to-Swim
The headlines in Fort Worth, Texas, had been harrowing. Several fatal drownings, including one of a Masters swimmer who had been swimming in a lake, had led recent newscasts, and the Masters swimmers on Fort Worth's Team Ridglea were paying attention.

The USMS website contains articles about sports medicine, health, and nutrition. This information is not intended to be a substitute for professional or medical advice on personal health matters. For personal medical advice, or if you are concerned about a medical condition or injury, see your healthcare provider for evaluation and care. The USMS website also contains articles about swim training and technique, including drills and workouts. All swimmers should be evaluated by a healthcare professional prior to beginning swim training. In addition, consult with a trained coach when introducing new technique or drills to your swim training program.