U.S. Masters Swimming Articles & Videos

By Author: Daniel Paulling
Presented by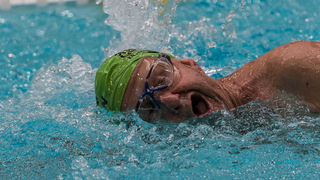 Events
The 1,000-plus swimmers at Summer Nationals broke 39 world records and 55 USMS records in a meet in which no relay records were broken. Eight swimmers had multiple world record swims and 10 had multiple USMS record swims.
Events / Open Water
Hardy Lussier's dedication helped him come in second place on the men's side with a time of 1:05:51 on Sunday in the U.S. Masters Swimming Long Distance Open Water National Championship. The 5-kilometer race was in Elk Lake in Oregon about 200 miles southeast of Portland.
Adult Learn-to-Swim
Steve Woolson was one of 29 people who signed up for adult learn-to-swim classes offered in April at a YMCA in Sarasota, Fla. Members of the Sarasota YMCA Sharks Masters club volunteered their time to teach the twice-a-week lessons.
Adult Learn-to-Swim
Aaron Taylor struggled to find students for adult learn-to-swim classes at his Sarasota, Fla., YMCA branch for the first three months of the year. The U.S. Masters Swimming ALTS initiative fixed the aquatics director's problem in April.
Adult Learn-to-Swim
Sarasota (Fla.) Y Sharks Swimmer Bill Ewell completed the U.S. Masters Swimming's adult learn-to-swim instructor certification course in 2016 and has taught ALTS lessons since April at a YMCA.
Events / Open Water
Abbey Erwin edged out her father, Jeff Erwin, to win the 2-Mile Cable Open Water title in Oregon
Events / Open Water
Gulliver Swim Club's Ricardo Valdivia was the fastest male in the ultramarathon distance, which was 9.2 miles, with a time of 2:05:30, slightly more than 2 minutes faster than...

The USMS website contains articles about sports medicine, health, and nutrition. This information is not intended to be a substitute for professional or medical advice on personal health matters. For personal medical advice, or if you are concerned about a medical condition or injury, see your healthcare provider for evaluation and care. The USMS website also contains articles about swim training and technique, including drills and workouts. All swimmers should be evaluated by a healthcare professional prior to beginning swim training. In addition, consult with a trained coach when introducing new technique or drills to your swim training program.