U.S. Masters Swimming Articles & Videos
Presented by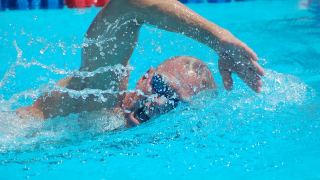 Coaches Only / Technique and Training
Over the last few decades a lot of changes have been made to the way we approach swimming and coaching the freestyle stroke. And we've learned that techniques we would never have thought to be efficient have proven to be exceptionally so in some swimmers.
Technique and Training
We've all heard about the three Rs for academics: reading, (w)riting, and (a)rithmetic, and we have long been told they are the fundamentals of a good education. Similarly, we have three Rs in...
Technique and Training
One of the biggest problems many swimmers have is an asymmetrical kick. It shows up in butterfly, backstroke and freestyle on the starts and streamlines, as well as in both freestyle and backstroke...
Technique and Training
For competitive swimmers, one of the biggest areas of opportunity for improvement is in streamlines, transitions and breakouts. An effective way to coach this technique is to break it down into three...
Technique and Training
We can probably all agree that kicking makes a huge difference in swimming across all distances and abilities. One of the things we have struggled with in our program is explaining the necessity of...
Scott Bay, head coach of the Daytona Beach Masters, shares two of his favorite sculling drills.
Technique and Training
This is a drill for freestyle that we really like at the moment and for a couple of different reasons: It lets you know where your head is for posture in the water. It gives you and indication of where your hand is to prevent over reaching (reaching in front of the head) It promotes rotation.

The USMS website contains articles about sports medicine, health, and nutrition. This information is not intended to be a substitute for professional or medical advice on personal health matters. For personal medical advice, or if you are concerned about a medical condition or injury, see your healthcare provider for evaluation and care. The USMS website also contains articles about swim training and technique, including drills and workouts. All swimmers should be evaluated by a healthcare professional prior to beginning swim training. In addition, consult with a trained coach when introducing new technique or drills to your swim training program.