U.S. Masters Swimming Articles & Videos
Presented by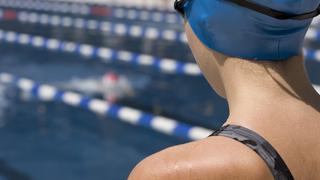 Technique and Training
No two swim workouts are exactly the same, but any workout should include a warm-up period at the start of practice. As a younger swimmer, you could jump in, race a buddy down the pool and be ready...
Technique and Training
Humans are land-based, vertical mammals. So asking a swimmer to get wet, go horizontal, upside down, and then swim backwards? Well heck, no wonder backstroke sets can set some swimmers groaning.
Coaches Only / Open Water / Technique and Training
Open water training creates some unique challenges for Masters coaches. Some have the luxury of open water venues for practice but for most coaches, the pool is still the rule. However, to serve our...
Technique and Training
Hazy recollections of predawn workouts, monster sets and two-a-days, sometimes flit across my memory like a vague dream. I know it happened years ago but as a parent of two teens, a swim coach and...
Technique and Training
January is fast approaching and the number of swimmers at practice may grow as the triathletes reemerge from their recovery stage and swimmers with New Year's resolutions and maybe a few regulars make their way back to the pool. What's a coach to do? ... DRILL!
What is it that makes coaches great? Is it their workouts, their motivational skills, their knowledge of swimming? It's an interesting question and if you posed it to 10 people, I bet you would...

The USMS website contains articles about sports medicine, health, and nutrition. This information is not intended to be a substitute for professional or medical advice on personal health matters. For personal medical advice, or if you are concerned about a medical condition or injury, see your healthcare provider for evaluation and care. The USMS website also contains articles about swim training and technique, including drills and workouts. All swimmers should be evaluated by a healthcare professional prior to beginning swim training. In addition, consult with a trained coach when introducing new technique or drills to your swim training program.