U.S. Masters Swimming Articles & Videos
Presented by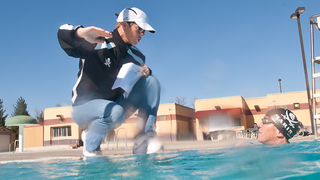 Coaches Only
Here are some reasons to consider joining us in this wonderful profession.
Technique and Training / Triathlon
Here are some fun, pressure-free suggestions for maintaining (or improving) your swim skills during your workout hiatus.
Health and Nutrition
A good night's sleep is essential for exercise recovery, mental sharpness, and a strong immune system. Stick to a regular 8-hour sleep schedule, but don't neglect the value of the last few...
Coaches Only
Here are some thoughts about the craft of designing workouts.
Technique and Training
Butterfly with a great kick evokes the image of a powerful aquatic beast lunging through the surf, powering forward with undulating grace and awe-inspiring beauty. Yet many of us swim butterfly looking less like Flipper and more like hobbled jellyfish.
Technique and Training
The undulating motion of butterfly can provide a swimming experience of sublime beauty and pleasure. But the stroke's above-water, double-arm recovery introduces opportunities for fatigue that can quickly turn that pleasure into pain.
Coaches Only
Let's examine three things we can do to help keep swimmers safe.

The USMS website contains articles about sports medicine, health, and nutrition. This information is not intended to be a substitute for professional or medical advice on personal health matters. For personal medical advice, or if you are concerned about a medical condition or injury, see your healthcare provider for evaluation and care. The USMS website also contains articles about swim training and technique, including drills and workouts. All swimmers should be evaluated by a healthcare professional prior to beginning swim training. In addition, consult with a trained coach when introducing new technique or drills to your swim training program.