U.S. Masters Swimming Articles & Videos
Presented by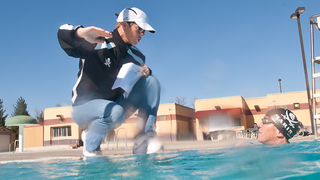 Coaching
In an earlier article, we discussed what swimmers want from their coach. Here we'll discuss some additional tips on how to provide a personal touch to make the athletes on your team feel that you're investing effort to help them achieve their individual goals.
Coaching / Triathlon
Triathletes and fitness swimmers represent a large potential market for swim coaching services, so it's in our best interest to have them join and remain with our workout group.
Coaching
Here are some ideas for keeping workouts interesting.
Training
Your distance per stroke tells only part of the story in terms of your stroke.
Coaching / Training
Swimmers receive significant benefits from competing, and if coaches pay attention to those events, we'll improve at our jobs.
Coaching
A well-executed butterfly stroke is one of the most beautiful things in all of sports, and swimming it can be an exhilarating experience that makes your spirit soar. Yet butterfly is also a uniquely...
Training
You don't have to be a data junkie to be a great swimmer, but there are some compelling reasons to keep a fitness log. You can make notes on paper, create a spreadsheet, or use an online tool such as the free USMS multisport FLOG.

The USMS website contains articles about sports medicine, health, and nutrition. This information is not intended to be a substitute for professional or medical advice on personal health matters. For personal medical advice, or if you are concerned about a medical condition or injury, see your healthcare provider for evaluation and care. The USMS website also contains articles about swim training and technique, including drills and workouts. All swimmers should be evaluated by a healthcare professional prior to beginning swim training. In addition, consult with a trained coach when introducing new technique or drills to your swim training program.