U.S. Masters Swimming Articles & Videos
Presented by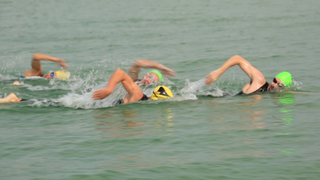 Open Water / Technique and Training
Most swimmers who train in the pool use both the lane lines and markings on the bottom of the pool to tell them whether or not they're swimming in a straight line. With the visual feedback from...
Coaches Only / Technique and Training
For many swimmers, distance sets can be dull as they seem to go on, and on, and on. For others though, a continuous swim can be manageable or even pleasurable. Regardless of your interest in long distance and tolerance for swimming long sets, ladder sets can be highly beneficial for all swimmers.
Technique and Training
Despite what it might look like, synchronized swimming is far from being all pretty dancing on the surface of the water. Synchronized swimmers have unique skills that could be useful to the average...
Technique and Training
Playing water polo can help swimmers increase their speed and endurance. Many of the sets and exercises water polo coaches give their players can also help swimmers with their technique. And who knows, you may even find your swimmers and yourself having fun trying a water polo workout! 

The USMS website contains articles about sports medicine, health, and nutrition. This information is not intended to be a substitute for professional or medical advice on personal health matters. For personal medical advice, or if you are concerned about a medical condition or injury, see your healthcare provider for evaluation and care. The USMS website also contains articles about swim training and technique, including drills and workouts. All swimmers should be evaluated by a healthcare professional prior to beginning swim training. In addition, consult with a trained coach when introducing new technique or drills to your swim training program.