U.S. Masters Swimming Articles & Videos
Presented by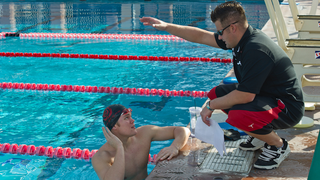 Coaches Only
To combat these difficulties our coaching staff decided to type and print each workout, place it in a plastic Ziploc bag, and put a copy at the end of each lane for every practice. We still give...
Coaches Only
Many Masters swimmers swim with the same lanemates at every workout. They find their group and their lane mojo, and that's it, day after day. This works well for a lot of swimmers who crave routine in their workouts.
Coaches Only
Have you ever noticed how everyone gets excited when the 8-and-unders swim at age-group or summer league swim meets? Parents and coaches make a big deal about all the swimmers, regardless of their...
Coaches Only
During big events such as the upcoming 2015 Nationwide USMS Spring National Championship, many swimmers will be showing off how hard they've worked all winter. And although it's the swimmers...
Human Interest
I always look forward to meeting new people, whether it's through travel, working out, or practicing with different Masters swim clubs. Recently my wife and I and our two oldest sons planned to...
Coaches Only / Technique and Training
From the end of October to mid-March, coaches can really break the monotony of workouts by offering a few special holiday practices. Adding a little spice to practices this time of year helps...
Technique and Training
Many of us are always trying to swim faster, improve our strokes, and delay Father Time. To accomplish these goals, we talk to our coaches, watch training videos, attend clinics or camps, watch and...

The USMS website contains articles about sports medicine, health, and nutrition. This information is not intended to be a substitute for professional or medical advice on personal health matters. For personal medical advice, or if you are concerned about a medical condition or injury, see your healthcare provider for evaluation and care. The USMS website also contains articles about swim training and technique, including drills and workouts. All swimmers should be evaluated by a healthcare professional prior to beginning swim training. In addition, consult with a trained coach when introducing new technique or drills to your swim training program.