U.S. Masters Swimming Articles & Videos
Presented by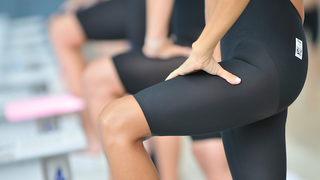 Products and Reviews
We get up early, work hard all season, put in the yardage, book our tickets, pay our meet fees, and schedule our "vacation" around swim meets. With varying degrees of confidence, we're...
Products and Reviews
The age-old adage "Use your head" has probably been drilled into us by our coaches throughout our swimming careers. Following the black line on the bottom of the pool for years at a time probably...

The USMS website contains articles about sports medicine, health, and nutrition. This information is not intended to be a substitute for professional or medical advice on personal health matters. For personal medical advice, or if you are concerned about a medical condition or injury, see your healthcare provider for evaluation and care. The USMS website also contains articles about swim training and technique, including drills and workouts. All swimmers should be evaluated by a healthcare professional prior to beginning swim training. In addition, consult with a trained coach when introducing new technique or drills to your swim training program.