U.S. Masters Swimming Articles & Videos
Presented by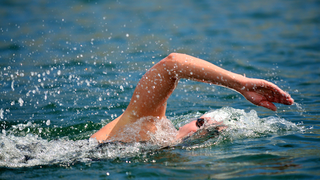 Open Water
Dealing with changing conditions is one of the unique challenges in open water swimming. Depending upon geographical location, seasonal changes can drastically impact the water temperature. The dangers of swimming in excessively warm water are well known, but what about swimming in cold water?
Open Water / Technique and Training / Triathlon
In order to maximize pool workouts for triathlon, training should focus not only on building aerobic endurance, but also on technique appropriate for efficient swimming in a dynamic open water...
Technique and Training / Triathlon
Swimming faster must necessarily begin with swimming smarter. As with most endeavors—physical or otherwise—there is a limit to progress that can be made without continual improvement in...
Triathlon
For some triathletes, the most daunting part of the race is the first 30 seconds. After floating in place among as many as 2,000 other swimmers (in the case of an in-water Ironman start), the silence...
Technique and Training / Triathlon
Before you begin incorporating training equipment into your workout sets, it's important to understand that such tools should be used to correct technique, not swim faster in training sets....
Open Water / Technique and Training
Most triathletes who come from running and cycling backgrounds are well acquainted with "sinking legs syndrome," an imbalance in body position during swimming. With more muscle mass in the legs, it's...
Open Water / Technique and Training / Triathlon
It's undeniable: many triathletes consider themselves cyclists or runners and regard the first part of the race as something to be tolerated, or worse, feared. Swimming in a frenzied open-water pack...

The USMS website contains articles about sports medicine, health, and nutrition. This information is not intended to be a substitute for professional or medical advice on personal health matters. For personal medical advice, or if you are concerned about a medical condition or injury, see your healthcare provider for evaluation and care. The USMS website also contains articles about swim training and technique, including drills and workouts. All swimmers should be evaluated by a healthcare professional prior to beginning swim training. In addition, consult with a trained coach when introducing new technique or drills to your swim training program.