U.S. Masters Swimming Articles & Videos
Presented by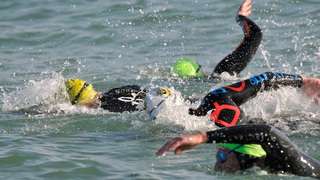 Coaches Only / Open Water / Technique and Training / Triathlon
Preparing your athletes for an open water swim with a surf entry is an important part of helping them get ready for the coming open water season. The set below offers some ideas for how to teach...
Open Water / Technique and Training
I ask every triathlete I coach, "How do you change your stroke when you swim in a wetsuit?" Few ever get the answer right. The say things like "Uh, well I float better so I don't kick at all." I rarely get much beyond the mention of the increased buoyancy and using the legs less or not at all.

The USMS website contains articles about sports medicine, health, and nutrition. This information is not intended to be a substitute for professional or medical advice on personal health matters. For personal medical advice, or if you are concerned about a medical condition or injury, see your healthcare provider for evaluation and care. The USMS website also contains articles about swim training and technique, including drills and workouts. All swimmers should be evaluated by a healthcare professional prior to beginning swim training. In addition, consult with a trained coach when introducing new technique or drills to your swim training program.