U.S. Masters Swimming Articles & Videos
Presented by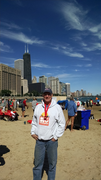 Human Interest
From the time he could walk, Charles Lee jumped into the lake at his family's summer retreat near Terre Haute, Ind. The property, dubbed "Lock Lee," sat on two lakes, one of which was a...
Human Interest
Susan (Rothert) Meyers by Cheryl Gettelfinger   At the United States Masters Swimming (USMS) Short Course Yards National Championship held at the end of April 2012 in Greensboro, NC, Susan...
Human Interest
Although Marty Mennen began swimming at age nine, he did not compete until he was in the 11-12 age group. He was a state champion for Louisville Male High School (100 butterfly), (he believes it was...
Human Interest
In Bob Patterson's words: I was a late swimmer, learning to swim at age thirteen in 1952 at Camp Marymount, a Catholic Summer Camp just outside of Nashville, Tenn. Fortunately, I had a very patient...
Human Interest
The Boy Scouts sponsored a meet at the Muncie YMCA which was Jerry Meyer's first competition. It was the late 40s, there was no such thing as goggles and there was a running track above the pool at...
Human Interest
Ivan Chalfie took up swimming after suffering from rheumatic fever at age six. The prognosis was probable permanent heart damage and the possibility that he might never walk. His doctor suggested he...

The USMS website contains articles about sports medicine, health, and nutrition. This information is not intended to be a substitute for professional or medical advice on personal health matters. For personal medical advice, or if you are concerned about a medical condition or injury, see your healthcare provider for evaluation and care. The USMS website also contains articles about swim training and technique, including drills and workouts. All swimmers should be evaluated by a healthcare professional prior to beginning swim training. In addition, consult with a trained coach when introducing new technique or drills to your swim training program.