U.S. Masters Swimming Articles & Videos
Presented by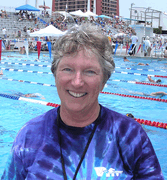 Biography
Betsy Durrant is a wonderful combination of dedicated swimmer, teacher/coach, and able administrator, currently serving her first term as USMS Secretary. A long period of varied service preceded...
Biography
It's hard to count the many facets of Jack Geoghegan's service to USMS. As Legal Counsel for 14 years, he has kept us on the straight and true path. He is always ready to soothe any troubled waters,...
Biography
Reg Richardson (1911-1989) was a "Big Man in USMS" in more ways than one. He was the 1984 recipient of the Ransom Arthur Award, USMS's highest accolade, served as USMS Treasurer during the...
Biography
As the president of USMS, I think one of my favorite responsibilities is to recognize the athletic and service accomplishments our members. And my greatest pleasure is to recognize the winner of the USMS Ransom J. Arthur Award, our highest award.

The USMS website contains articles about sports medicine, health, and nutrition. This information is not intended to be a substitute for professional or medical advice on personal health matters. For personal medical advice, or if you are concerned about a medical condition or injury, see your healthcare provider for evaluation and care. The USMS website also contains articles about swim training and technique, including drills and workouts. All swimmers should be evaluated by a healthcare professional prior to beginning swim training. In addition, consult with a trained coach when introducing new technique or drills to your swim training program.