News Release
United States Masters Swimming to be a Sponsor at the USA Swimming Olympic Trials
June 23, 2008 - United States Masters Swimming (USMS) is pleased to announce it will be a sponsor of the USA Swimming Olympic Trials. The Trials will be held June 29 through July 6 at the Qwest Center in Omaha, Nebraska.

As part of its support for the USA Swimming Olympic Trials, USMS will be a Presenting sponsor of the 100-meter men's backstroke, and be the Presenting Sponsor of three time Olympic Gold Medalist and NBC Olympic Games commentator Rowdy Gaines' July 4th 1PM appearance in the AquaZone. USMS will have signage in the AquaZone and encourages all USMS members in attendance to come to the AquaZone and serve as goodwill ambassadors during Rowdy's appearance. Additionally, USMS will be gathering video and audio testimonials from past Olympians and coaches for future promotional use, and the current "Why Join USMS" promotional video will air intermittently during the Trials.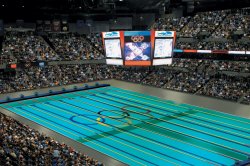 "The Olympic Trials is the showcase event for the swimming community," said USMS Executive Director Rob Butcher. "There will be hundreds of USMS members in attendance, as well as thousands more watching the Trials on NBC and USA. We are thankful to USA Swimming and the USA Swimming Foundation for allowing USMS to participate and show its support."
For those USMS members attending the Olympic Trials, the Nebraska LMSC has reserved pool time from 6-7AM Saturday June 30th through July 5th at the Brownell-Talbot School (400 N. Happy Hollow Blvd, Omaha, NE 68132). There is no cost to USMS members to swim during this time. Space is limited and only registered USMS members will be able to participate. For more information, contact Erin Sullivan by email or by phone at 402-238-6920.
Contact: Rob Butcher, United States Masters Swimming (USMS)
Phone: (386) 405-8841
Email