Features
Success for the Ventura Deep Six
On Monday U.S. Masters Swimming members Jim McConica, 59, Kurt Baron, 46, John Chung, 40, Mike Shaffer, 45, Tom Ball, 50, and Jim Neitz, 42, also known as the Ventura Deep Six or simply, VD6, successfully blew away the world record for an open water relay. The 202-mile odyssey took 101 hours, 39 minutes and 53 seconds to complete, far exceeding the previous world record by about 130 miles. The six members of Ventura County Masters had a lot of support from their crew, families and each other, as well as many supporters from afar who cheered them on along the way via Facebook.
In addition to the Pacific's record cold temperatures this year, they endured jellyfish stings, fog, weather issues, mysterious fish nibbling at their toes, and worst of all, their onboard hot tub broke down (not funny-- they needed it to warm themselves after their one-hour turns in sub-60 waters). Fortunately, the guys were not too tired for an interview and you will see them in the next issue of SWIMMER. Additionally, our friends at Swimming World TV interviewed them on their Morning Swim Show and have posted this video.
---
Fin Testing in Swim Bag
Masters swimmers often debate the use of fins, at practice and in USMS online discussion forums. Some swimmers eschew them, others use them for most of their workouts, and many like them as a training aid for specific sets. Whatever your preference, the array of fins is somewhat dizzying. Our testers spent several weeks checking out some of the brands on the market. The majority of fins tested were short- and medium-bladed, and are commonly called training fins.
---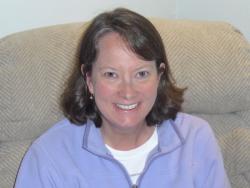 Postpartum OCD and Swimming: My Story
In the September - October issue of SWIMMER, The Healthy Swimmer, page 15, we present an article about some of the benefits of exercise for those struggling with mental health issues. Kristin Burgard with Michigan Masters inspired us with her own story about her struggle with postpartum OCD and how she feels that Masters swimming was part of the reason she was able to overcome some of the challenges she faced.
Read more...
---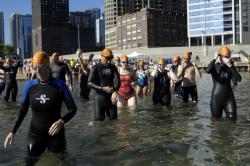 Swim Across America Chicago: A Beginner's Perspective
When it comes to cancer, everyone has a story. It doesn't matter whether they've been directly affected by cancer themselves, a friend or family member has been afflicted, or even a mere acquaintance. Everyone has a story. On Saturday July 17th, 2010 at the Ohio Street beach, everyone's story got a little better known, a little louder, a little braver and a lot more hopeful.
Read more...
---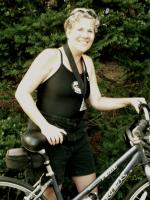 Twenty Years in the Making: I Am A Triathlete
"But I'm not a runner." I said.
"It doesn't matter. You can walk part, run part. That's what we did last year," said the woman next to me as we toweled off in the locker room after swim practice.
I was in awe of my teammates – middle-aged women like me – who were talking about participating in an upcoming sprint triathlon. I realized that that week was the perfect time for me to become a triathlete.
Read more...
---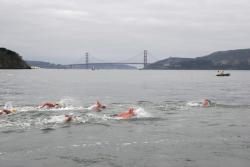 USMS Member Has Created A Monster ... of an Event
It has often been said that swimming the English Channel is the Mt. Everest of open water sport, and if that is the case then the RCP Tiburon Mile would be the equivalent to the world's most prestigious tower climb, The Annual Run Up Empire State Building in New York.
Each year in October, a short, intense, and star-studded open water swim takes place in the picturesque town of Tiburon, Calif., called the RCP Tiburon Mile.
Read more...
---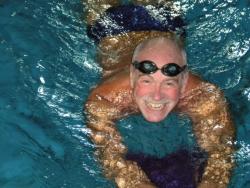 Double Whammy Times Two
Two swimmers tackle the 5K and 10K Long Distance Championships ... on the same day. No matter how it's done, finishing pool Long Distance Championships fills swimmers with a sense of satisfaction. Several members this summer went the extra miles and decided to knock out both the 5K and 10K in the same day. For members planning on competing in these two "postal" events, named because you complete the event on your own and mail your results in, the deadline for completing the swim is September 15 and the deadline for sending in your results is September 25.
Read more...
---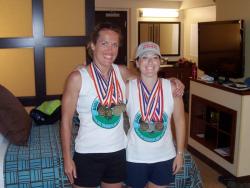 USMS Members Compete in Transplant Games
U.S. Masters Swimming members Laura Ellsworth, 33, of Vancouver, Wash., and Jennifer Rigert, 37, of Portland, Ore., have a few things in common: They have been swimming together for two years, and they are both kidney transplant recipients.
Readers may remember Rigert from the May – June issue of SWIMMER this year (Swimming Life, "The Gift of Life," page 8). Ellsworth met Rigert in 1998, just as she was going into kidney failure. "I was beginning to get very sick. She [Rigert] had had her kidney transplant for about two years at that point, and her situation was very similar to mine," Ellsworth says.
Read more...
---
Open Water Challenge in Puerto Rico
The swimming here in San Juan culminated Friday with the Open Water Challenge. About 150 swimmers made the 1500 meter loop course in the warm sparkling waters of Laguna del Condado. Women's overall winner Eney Jones and men's overall winner Jeff Erwin talk about their swims and open water swimming in general, and Ft. Lauderdale Aquatics swimmers talk about their unique scholarship program that allowed some of their younger Masters swimmers to travel with them to Puerto Rico. The relaxed atmosphere and music made for a great wrap party.
---
Day 4 at Summer Nationals -- Friends and Fun
Our last day at the natatorium included the men's 400 free, the 50 breast, the 200 fly, the 50 back and the 100 free. Music and fun filled the air as swimmers swam fast, made new friends, found old ones and enjoyed the friendly hospitality of the local volunteers. More records were broken, but the meet's energy hinged on something more than that for many. As soon as the last heat of the 100 free touched the wall the festivities started. Live music, dancing, roasted pigs and Gasolina took over the second floor of the natatorium as teams celebrated their victories and swimmers collected their awards.
---